Home » Blog
The Energy of Authenticity – by Rose Diamond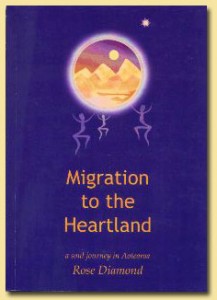 The Energy of Authenticity – by Rose Diamond
I'm passionate about interviewing people who are making a difference. We all need plenty of encouragement to live an authentic life and create a sustainable livelihood by offering our unique gifts. People who are living this way are inspirational role models and there are many such people, everywhere I look, contributing a feast of gifts.
A year or two ago I published my book, Living your Passion: How Love-in-action is Seeding A Whole New World. It's based on interviews with 25 New Zealanders. Some of them, such as Margaret Jefferies in Port Lyttelton and James Samuel of Transition Towns, are making a difference in grassroots communities; others like Daniel Batten and Leanne Holdsworth are brining innovations into business, whilst others such as Anahata and Orah Ishaya are more concerned with changing the world from the inside out, through raising consciousness. I call them the new culture makers because when you live your passion you bring a new energy into the world and create from a new place. This is the energy of authenticity.
As the old world crumbles around and inside us, more and more people are drawn to live an authentic life, a life lined up with their true values. It takes courage to be authentic and to offer your unique gifts to the world. The word courage comes from le coeur, the heart. Courage is of the heart. And when we live our passion we are led by the heart and follow our unique creative process, or soul journey. We must take not one, but many leaps of radical trust; leaps into the unknown. We learn to trust that there is something bigger than the rational self or the individual personality. You have to be in love with what you feel called to do, otherwise there isn't enough motivation to overcome the inevitable difficulties and resistance. You need to be inspired, lit up, on fire. It also helps enormously if you have an experimental mind set and heaps of curiosity and if you don't take any of it personally. Living your passion is a fast track to personal transformation. Here's a little of what I said in my book:
"There's a sense of being pushed to one's limits by a greater power and having to learn both the laws and the discipline of how to co-create with that…It's a process of holding a very clear focus and surrendering at the same time. You have to care enough to put in considerable time and energy , and yet be unattached to outcomes and not take it all too personally. It's really an exercise in being aligned with the soul's purpose, and the soul has very different values and priorities. In this sense living your passion is about being a creative artist, whether the work of art is your own life, a community project, writing a book or creating a business."
Now I'm starting a new venture, taking my passion for interviewing innovative people on air, with the Passionate Women Radio Show on Fresh FM. Every other Tuesday from 4-5pm, I'll be talking with women from all over New Zealand who are making a difference by living their passion. My first guest, on April 19th is Barbara Ann Grant from Nelson. Barbara is a sound healer and voice coach who loves to help others to free their creativity and authentic voice.
And if this theme appeals to you and you live in Golden Bay I will soon be starting a group for women exploring creativity and authentic voice through writing and the spoken word. For more information or if you know passionate women who you think I should interview, please email
me: rose@awholenewworld.net To buy a copy of Living your Passion go to my website: http://www.awholenewworld.net/books.htm
Rose Diamond, April 12, 2011
GD Star Rating
loading...
GD Star Rating
loading...
Tags: authentic