Home » Arts
Eco-Jeweller Nick Feint – Saving the Planet One Wine Bottle at a Time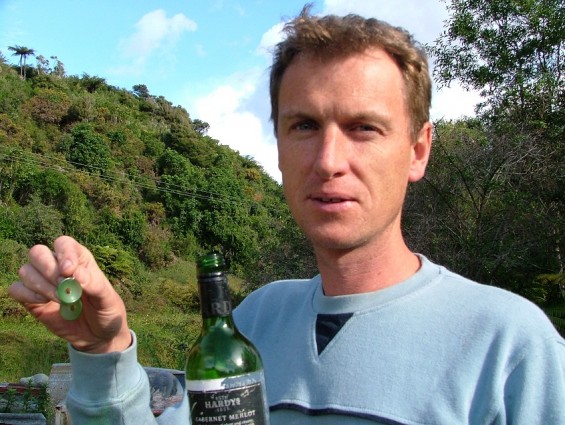 It's times like these I really love my job. After a busy morning on the computer, it's just me, the National Programme and the tar seal as I drive towards the Abel Tasman National Park. Today I'm heading into the wild to hunt down Nick Feint, owner of Stone Arrow Jewellery.
Part of the pleasure of tracking down Nick and his new line of recycled glass jewellery is the journey out to his place. I pass by gorgeous Tata Beach (where the tide never seems to go out) and wind up a steep hill which would have even the fittest of runners breaking out in a sweat. At the top, the lush green-scape of the top of the South Island, Aotearoa, New Zealand stretches for miles before me before I dip down again into Wainui Bay.
It's about now I'd better admit that the 'wild' I'm heading into is more along the lines of thriving, abundant, and peaceful. And it's within this setting, surrounded in native bush and the golden sanded and clear waters of Wainui Bay that Nick Feint draws his inspiration for the jewellery pieces he sells in over sixty retail outlets across Aotearoa New Zealand and online.
The road morphs into loose-seal and I drive through a Pukeko inhabited dairy farm before reaching the Tui Community. This is the twenty eight year old intentional community where Nick lives with his family.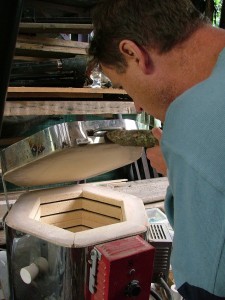 Tui Bee Balms, a company supplying a significant quantity of natural bees wax and olive oil based products to body-workers, retailers and other consumers world-wide, appears. There are an assortment of bikes leaning against its yellow walls, signs of the staff who bike from home to work in a mere five minutes. Across the road from Tui Bee Balms I notice a sign for a new totally 'off the grid' bed and breakfast and resolve to check it out another day.
I make a right after the Tui Events Park and find Nick's studio and factory – a low lying cabin – where the man himself is hard at work.
Nick's got an i-tunes comedy show turned up really loud, so he doesn't hear my call as I walk in the door. I inspect his studio, it's jam packed with jewellery tools and equipment . I see small piles of beautiful dis-guarded pieces that didn't quite make the mark. Children's paintings are stuck to the ceilings.
My eyes fall upon Nick's new eco-earrings display. They're the reason I'm visiting and I lean in for a closer look. Simple and elegantly designed, his new line are coloured in deep hues of blue, green and brown. These earrings speak of New Zealand, of the Pacific Ocean, of the land. I remember reading on Nick's website 'you can never have too many spirals' and whole heartedly agree.
I track Nick down in his office and he's soon giving me the low down on his business. Nick's been a jeweller for twenty years and arrived to make his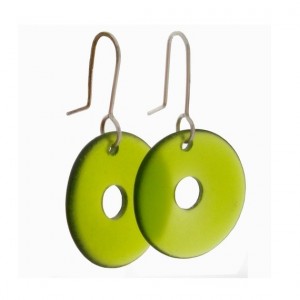 home at Tui twelve years ago. A few years later, he met and married his German wife Sybille at Tui (she was a WWOOFer – as in 'Willing Workers on Organic Farms'), and they now have two young boys – Theo and Marty. Nick's jewellery business supports his family, as well as employing a few locals.
Let's change the subject for a moment and talk about Tui Community. Many are curious about life on a community (let it be known that the term 'commune' was left behind with the seventies). So here's the brief: Tui's an intentional community, one of few that have weathered the test of time around New Zealand. It's been up and running for around twenty eight years. If you were cooking for a Tui community meal you'd find yourself cooking for an average of twenty five people (doesn't that make a meal for four seem a doddle?). As does any house-hold, Tui has it's good times and it's challenging times. But the great thing is Tui has effectively created its own sub-culture, including some highly effective communication techniques, that have enabled this community to stick together raising children and e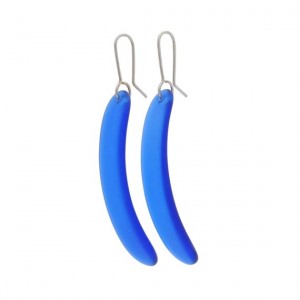 njoying a life-style that comes as close to their ideal as is possible.
But back to the jewellery. Having very little knowledge of jewellery making myself I'm curious to learn how Nick makes his earrings. It's hard for me to get my head around the fact that he's in control of the entire process. He takes a piece of glass from a rough cut chunk from an old bottle, to a beautifully finished, smooth, perfectly made piece that bears absolutely no resemblance to it's previous form. I'm also intrigued by the fact that his eco earrings don't cost much despite that fact that he isn't mass producing.
We start at the beginning. Nick grabs a wine bottle – Lindauer – and shows me the holes he's cut out of it. This is a rather impressive moment. He tells me he spent ages hunting for the right shades of blues and greens that he could melt down. Luckily, Lindauer wine is very popular here in New Zealand. But how does he get that glass out?
Nick leads me to his custom made glass cutter gadgets, which he made himself. I peer at them, having no idea how they work, and major
ly appreciating the DIY approach. He's literally built his own gear to make earrings out of used alcohol bottles. This green approach Nick's taking goes far beyond the surface.
Then he shows me the molds he's made, they depict textures of feathers, spirals, waves, ferns – all things New Zealand – which he uses in his kiln to create the smooth, perfect patterns of his trade mark designs. This moment answers many of my questions around how he achieves such consistent work.
We peer into his kiln and Nick curses when he finds that his latest batch of earrings, which have been in there for an hour, have all cracked. I stand there marveling at all the work and creativity he pours into his jewellery while Nick contemplates what went wrong.
Back in the studio I gaze at his new eco-earring range again, and tell Nick it's near impossible to pick the original source of those earrings, yet imperative that people know where they come from. Nick Feint is championing the new generation of jewellery production – beautiful and authentic – and reusing resources that a throw-away culture might otherwise forget. You can wear these earrings and feel genuinely good.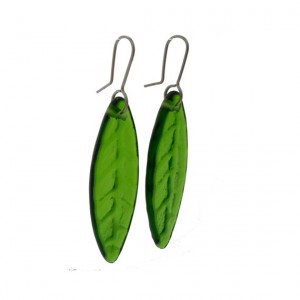 And if you'd like to buy a pair or two of this new eco-earrings range, head on over to Nick's etsy website. Here's his facebook site too (feel free to 'like' it). And if you'd like to hear more about Nick's life at Tui Community each month, plus receive news of his monthly specials, you're also invited to sign up to his monthly online newsletter.
By Charlotte Squire
www.happyzine.co.nz
GD Star Rating
loading...
GD Star Rating
loading...
Tags: green design