Home » Happiness
Kāpiti Coast's Greenest Street: Growing the future
Submitted by on April 22, 2011 – 6:10 pm
2 Comments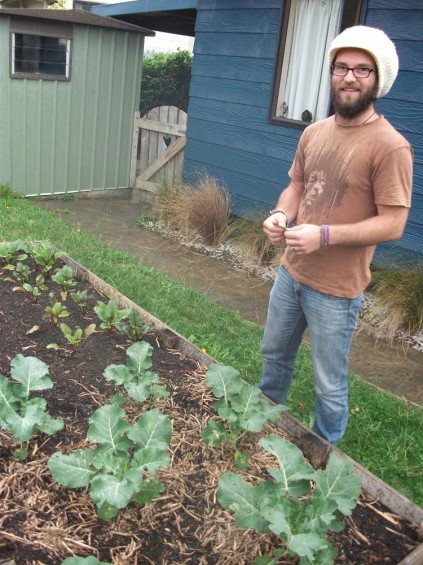 Blog 8: by Stacey Gasson
Joe Simmonds doesn't actually live in Rainbow Court, but his mum Angie does. And he's left his mark on the community in the shape of a series of garden beds. Rainbow Court is Raumati South's entry in Kāpiti Coast District Council's Greenest Street competition, in which participating streets work as a community to reduce their collective environmental footprint over nine months.
Joe is a 22-year-old website designer who started gardening less than a year ago after "getting paranoid" about peak oil and climate change. Despite being already motivated by his passion for 'the big picture' (to the degree that he became vegetarian at 8), Joe says a nightmare in which he was run down by an oil tanker "kickstarted something in my brain – changed my entire outlook on everything".
With a belief that "putting poison into your system will slow your body and mind" and a concern that few people know where their food comes from and what goes into it, Joe decided that good food was an obvious place to start enacting social change for a more resilient future. Learning to garden was the first step.
Starting at his home with a few lettuces in buckets, his early crops were savaged by the local salt air. He persevered and moved onto some small planter boxes, then took over Angie's 165m2 backyard six months ago, installing a series of raised beds made from recycled pallets. Apparently Angie was apprehensive at first – expecting it to be unfinished and chaos (as did his wife, Grace) – but is now happy with the result. The beds have been built with just enough space to kneel between them, making the best use of a small area. On the wet, cold autumn day I visit they boast swedes, basil, carrots, rainbow chard, marigolds and the last of summer's strawberries. Joe's future plans involve more compost bins, more fruiting trees and vines, and clearing an area to keep chickens.
Joe describes himself as "slightly OCD" (I laugh and tell him his mum says he's passionate), so it's no surprise that his new skills have seen him go on to build raised beds for two other Rainbow Court households, for Paekakariki School and his boss' family. Preparations are currently underway for putting in a garden at Grace's mum's place next season and he confirms the rumour that he was building Rainbow Court garden beds the week he got married….
To date, he's paid for a few seedlings and a few trailerloads of compost to fill the first beds. All are built from recycled pallets – for Joe, the fact that pallets are free, potentially going to waste and usually untreated outweighs the fact that they have a shorter lifespan than macrocarpa or treated timber. He wryly estimates that his tomatoes have probably cost him a couple of dollars each to date due to the compost purchase, but expects the economies to get better over time, especially as he expands his composting and starts to use the seeds he's saved.
For himself, Angie's beds are his testing ground where he figures out how to garden, so that when he has more land to work with in the future he won't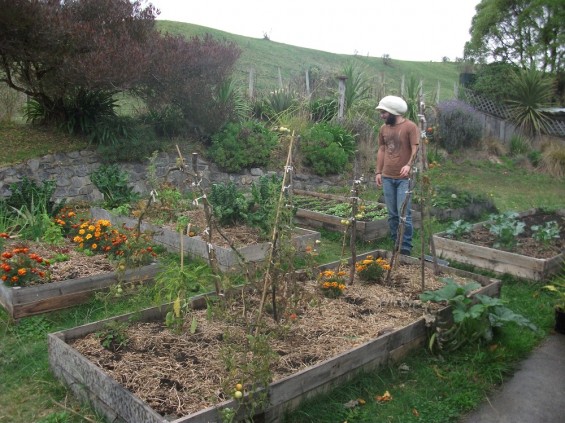 be jumping in at the deep end. His grandfather always had a great garden, as does his dad's partner, so there's help and advice available as he learns on the job. He's also been reading up on permaculture and has taken on the idea of feeding the soil, not the plants: "With the other problems we've got right now, the scariest thing is how we're killing the soil that feeds us. Topsoil fertility is decreasing world-wide". Ideally he'd like to have an acre to work with and is keen for his future children to grow up with gardens and fresh food.
Having said this, he's emphatic that you don't need a large space to produce food – providing people with garden beds is part of his wider goal to help people use what they've got available. He says that growing food is often seen as too hard, but if people would have a go they'd find out how easy, productive and rewarding it can be.
His advice is to start small with a square meter plot – do it small and well and see what you can get from it.
While getting paranoid was the catalyst for Joe to get gardening, he says it would be great if he could inspire even a few people to make small changes (I wonder if he knows that Rainbow Court's blog thanks him for inspiring them to build their community garden beds from pallets?). While he may not be an expert gardener yet, he does know how to build a website and he's keen to create an information hub, getting gardening-related information out there on the internet in a way that's easy to navigate. If Joe's passion to date is any indication, watch this space.
Stacey Gasson is the Sustainable Communities Coordinator with Kāpiti Coast District Council and one of the organisers of the 'Greenest Street' competition. This blog is part of series profiling participating households and their projects.
GD Star Rating
loading...
GD Star Rating
loading...
Kāpiti Coast's Greenest Street: Growing the future

,
Tags: green streets