Home » Uncategorized
Kāpiti Coast's Greenest Street: A light moment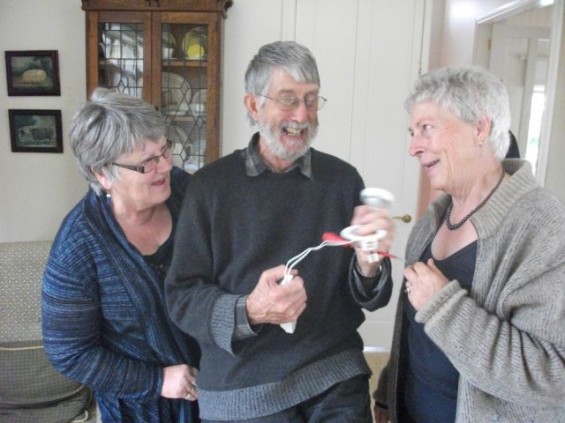 Blog 9: by Stacey Gasson
Avion Terrace has a certain way of doing things. When I drop by to catch up with Vic about their recent CFL*downlight workshop, in true Terrace style I'm met by Vic and Jude, Ken and Janet, Stuart and Doreen, and a full morning tea. Nice.
(*CFL = compact fluorescent lamp, aka. energy-saver bulbs).
The Terrace is one of four streets participating in the Kāpiti Coast District Council's Greenest Street competition. By entering the competition they hoped to both reduce their environmental footprint and build on their existing involvement as a community: they already have whole-street parties at least once a year and sharing of skills and tools is common (Vic's compressor seems to get good use inflating bike tyres). With a large number of retiree households, there are also regular coffee dates, fish n'chips on Friday night and group outings. And I hear they've been collecting egg cartons for one of the teenage musicians in the street who's having a go at soundproofing his room the DIY way! Janet and Ken sum it up, telling me they knew it was going to be a great place to live from the day they moved in: upon arrival they found the neighbours weeding their garden, then another cycled down and invited them to a BBQ that night.
But back to the CFLs. In 2010 the Kapiti Coast District Council purchased 49,000 Ecobulbs of various types to distribute across the district.
Using 80% less energy than standard incandescent bulbs, it was estimated that their installation would save Kapiti residents more than $5m.
The bulbs have proven popular, given away door-to-door on World Environment Day 2008, at fairs and stalls, but the downlight replacements have posed a bit of more of challenge.
Given that homes tend to have multiple downlights installed (my house had 12 in the kitchen and hallway), the savings to be made with CFLs are marked. But unlike the other Ecobulbs, the downlights come as a complete fitting that is wired in then clips into the ceiling cavity. Although homeowners are permitted to do this kind of electrical work, it's a little intimidating for some of us, perhaps? Once they're in however, the bulb itself can be replaced as needed (but with a life of 6-15 times that of an incandescent, that won't be often).
So to offer a little encouragement to the more nervous among us, the Council offered half a dozen replacement downlights to the Greenest Street competitors with a bonus installation demonstration. Tony Stratford, a local electrician kindly provided his time to show just how easy it was to put them in, with a well-priced backup offer for those who really weren't ready for this. And it seems to have done the trick. A dozen people turned out at Vic's one Saturday morning to see how it's done. Following the demonstration, there's been a few people keen to have a go themselves and Vic assures me it really is easy.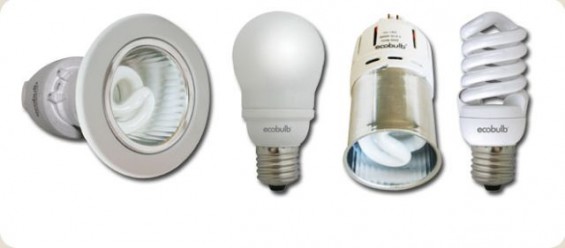 Unlike incandescents, CFLs do take a minute or two to warm up so they're not for use in the pantry (but they're great in the bathroom in the middle of the night). And if you were to replace the four most-used lights in your home with CFLs, you'd be looking at saving $80 a year. All in all, well worth the ten minutes it would take to install each one.
Before I leave after a most entertaining morning tea, Vic mentions that he and his brother-in-law from Wanganui have worked out a way to recycle a weedeater motor into a 'Kontiki' for pulling out a long-line. Once I work out that we're not talking about Thor Heyerdahl navigating the Pacific, I marvel yet again at the great green creativity out there.
Useful references:
To calculate the savings you could make by switching to CFLs, see Rightlight's cost comparison of new generation halogens, standard incandescents and CFLs.
Consumer tested 19 different energy efficient light bulbs and have made the results available for free here. They also have a useful article on choosing the right energy-efficient bulb here.
Replacement bulbs for CFL downlights can be purchased here.
Yes, these bulbs have been criticized for the small amounts of mercury gas they contain. But an unbroken CFL that stops working at the end of its life does not release any mercury. In Kapiti they can then be dropped off at the Council Service Centres or libraries for recycling. In other areas, Rightlight, suggest the following:
Ask your local council if they operate a hazardous waste service. Some offer a drop-off service at the transfer station, such as Wellington City Council and Christchurch City Council. Others offer an annual hazardous waste collection, like Auckland, Bay of Plenty, Hawkes Bay and Palmerston North. Check out www.hazmobile.govt.nz for more information.
Alternatively, visit the Interwaste website (Interwaste is a NZ company specialising in hazardous waste disposal and recycling) and buy a prepaid box to fill and send then in to be recycled.
In the case of broken CFLs, clean up instructions can be found at Rightlight. The Ecobulb variety purchased in Kapiti use mercury in an amalgam form. The amalgam is solid at room temperature and is trapped inside the end of the tube, further reducing the risk of it entering the environment if a bulb is accidentally broken. Consumer have also looked at an extensive independent study and concluded that the health risk is minimal.
EnergyMad, makers of Ecobulbs, also argue that using CFLs instead of incandescent bulbs has the net effect of reducing the mercury in the environment. This is because coal-fired electricity plants release more mercury into the air over the life of bulb than the amount of mercury contained in the bulb. And the mercury released by these stations is non-recoverable.
GD Star Rating
loading...
GD Star Rating
loading...
Tags: green streets