Home » Headline
Three Weeks to the Green Living Expo! Auckland, New Zealand
Submitted by Charlotte on May 12, 2011 – 10:27 pm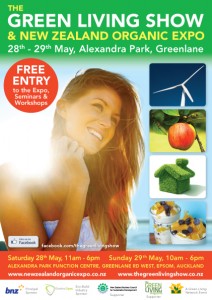 Three weeks to the Expo!
The very first Green Living Show & Organic Expo 2011 where industry experts from all green areas meet to share their knowledge and showcase their products.
With only a few weeks before the big weekend, our team is busy at work to ensure that this event is a success for all involved, and in future years will be the most important show of its kind in New Zealand.
Here comes a little taste of what you can expect:
Taste certified organics and gluten free foods and produce from Matakana Superfooods, Living Foods Lifestyle, Kiwi Organics and many more, be dazzled by the New Zealand made Eco-fashion and be pampered with local, overseas organic and natural cosmetics.
Does increasing cost of living concern you? Slash your power bills and minimise your carbon footprint with Insulation and Solar Technology suppliers at the Show.
And who could give you a better energy, water and material related advice than The Eco Design Advisors? Meet them at the show!
You will learn more about how sustainable performance is great for you, your business and our planet. In a series of seminars and workshops you will find answers to most of your questions.
Plus you will be the first to hear where the mayor of Auckland, Len Brown, places sustainability in his efforts to make our largest city the most liveable global metropolis.
Remember the admission is FREE – why not tell your friends! Head to our facebook page facebook.com/thegreenlivingshow and share the great news or forward this email to everyone you know.
This show is proudly brought to you by Green Living Network and BNZ, with support from EnviroSpec, Soar Printing and New Zealand Business Council for Sustainable Development and The Green Living Magazine.
GD Star Rating
loading...
GD Star Rating
loading...
Tags: green design, organics