Home » Arts
Shining Light, Shaky Ground: a Poet's Pilgrimage Through Te Wai Pounamu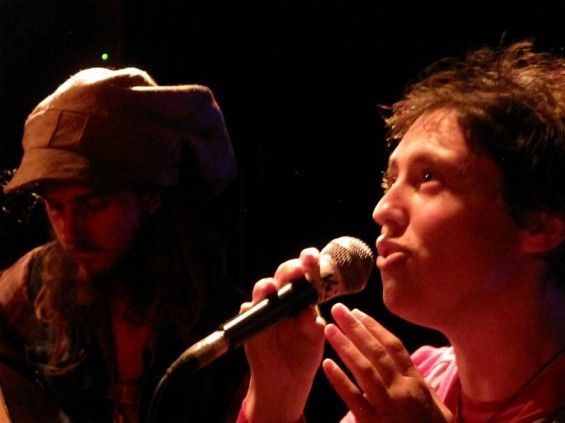 By Redwood Reider
This is a story about trust. About stepping into the unknown, carrying the light and being carried by it.
I'm Redwood, he's Rhythm. I rap poetry about the state of the world and the soul, he plays gorgeous intricacies on guitar and mandolin, and when we come together, magic ripples through us. We knew we wanted to go on tour through Te Wai Pounamu, the South Island of Aotearoa New Zealand, sharing our fusions of poetry and music with people. We knew some sacred stones would be coming with us on the journey, and that we would carry them to sacred places along the way. And as irrational as it seemed to be magnetised to a city that many sensible people continue to flee, we knew we had to end the journey at the place thirstiest for light – Christchurch, where the earth still rocks nearly every night.
The rest would be determined by the magic of the road…
When you live, as I do, in an oceanside hippie paradise (Golden Bay), where it's impossible for me to walk down the main street without being enfolded in massive cuddles somewhere in the middle of the sidewalk, it becomes easy to see anywhere else as tainted by the Babylonian trappings of self-centred commercialism. Of course, we would discover the generosity of South Islanders, or perhaps just the generosity of humans, all over this island. By the time my musical partner Rhythm and I said goodbye to each other three weeks later on a noisy street in the Christchurch suburbs, singing each other songs on a bench in front of the bank, while passersby looked sideways at us with curious smiles, I knew that wherever we find ourselves can be holy ground.
When we set out I wasn't sure who would show up to see us, or even if the gigs we had booked up and down the island would cover all our costs traveling all the way from Karamea to Dunedin and then back up north… we just set out trusting it would all work out if we sent ourselves into the world with intentions to share the light.
In nearly three weeks on the road we only paid for one night of accommodation (and they gave us a discount). In Karamea the local music venue was closed, but Rongo Backpackers took us in anyway in a spirit of supporting itinerant artists. Within ten minutes of pulling into town late one chilly Sunday night, we were dazedly reciting poetry on the Karamea radio station, based in a shack in Rongo's backyard. In Oamaru while on stage at a small festival, when I announced we'd be heading to Dunedin for our next gig, someone in the audience shouted out immediately from the darkness asking if we needed a place to stay. In rubble-strewn Christchurch, a city that has lost a lot of viable housing, we had multiple offers of spare beds from people we'd never met before, long before we rolled into town, simply from friends of friends who had been forwarded an email about our tour – my first taste of the community spirit brewing in new ways in that once cold-seeming city that in the past I'd called home.
Carry the light, and be carried.
We didn't call our gigs "performances." Too passive a model for the culture our world needs – that old concept of we give / you sit and receive. The term that Rhythm coined was "flowcreation sharemonies." Not just cocreation between my poetic lines and his guitar melodies, but cocreation with The Flow. Not just performance, but share-a-mony: a ritual in which everyone, including the "audience," becomes an active participant. I've heard it said that the next Buddha or the next messiah will not be a single individual but a birth of a collective consciousness in all of us. So the paradigm of a rock star idol on stage, superior to everyone else, smelled of the old world we are outgrowing.
We had no idea how the sharemony concept would take shape. But intentions are powerful things. In Oamaru, at the Autumn Arena festival, we found ourselves getting on stage just as an energetic loud tribal drum circle was revving up round the blazing bonfire in front of the stage. The sound man shrugged his shoulders as if to tell us we'd missed our chance, we'd never shut them up. So instead of competing we decided to play with them; Rhythm started a guitar riff in time to the drumbeats, the row of drummers round the fire turned to face us, and I spoke the poetry, my poem "Inner Fire" ringing out across the site:
sing with me sister,
dance with me brother
at forest's edge, we glow
we heat this whole night
with the fierce force of our souls
For most of the time we were on stage, drumbeats wove in and out from the audience. This was not a one-way gig; we were feeding each other energy. Between us and the crowd around the fire sat a geometric arrangement of sacred stones that we had been entrusted with for our journey. When I had told a few of my woman elders in Golden Bay what we were up to, they had immediately put some of their most precious rocks into my hands to take with us, many of them sacred stones from this island, pounamu and its green and blue cousins. Somehow, those heart stones were soaking up, amplifying and radiating energy between us and the audience at each place we played – and telling their stories through us. It had already become clear, early on in the journey when we found ourselves going on seemingly random detours to stunning places with ancient significance, that we were not carrying the stones so much as they were carrying us.
We followed intuitions, living one rhyme at a time. Freestyle improvisational rhyme has become a life metaphor for me. For when you rap freestyles on stage, the most amazing rhymeflows come through only when you surrender completely to the moment, letting go of the thinking/scheming mind, focusing only on the words you're saying and trusting that the next line, the next rhyme, will come through as it needs to. This became our practice, onstage and off. Sitting exhausted after a long day on the road in a deserted café at a crossroads in rural Canterbury, sending text messages into the night to anyone we could think of, wondering who would take us in but knowing we'd be taken care of… and finally, at the very instant that the café owners came to close down and kick us out, the cell phone beeping out a welcoming reply that would lead us to a friend we'd barely met, warm beds, abundant food and shared stories. Or sitting on stage in Dunedin, asking the audience to come up with the topic and time signature of the next improvised poem, and ending up rhyming about the circus to a waltzing strum-beat while our amazing acrobat friends the Twisty Twinz got up and started doing handstands off each other's bodies in the audience.
The magic of freestyle comes through when you offer yourself up in a spirit of trust.
The first week of our pilgrimage coincided with a holy time for my own ancestors, the Jews – the festival of Passover, celebrating our escape from slavery. When we were kids in Sunday school, they told us God magically parted the Red Sea waters to allow the people to escape the Pharoah's army. Later I learned another version of the story: it was not until the people actually stepped into the sea, in a spirit of trust, that the waters parted. So step into your sea, whatever it may be…
Rebirthing the Divine Feminine was a theme of this pilgrimage for me. I'm not talking just about women's liberation. I'm talking about the power of yin, the right brain, the feminine wisdom in us all, which has been silenced in so many ways and for so long, particularly since some guy said "I think, therefore I am." The deep intuitive wisdom that speaks from a place of stillness; the wisdom that, if we are in tune, precedes conscious rational thought, and precedes action. The wisdom of dreams. The Knowing within us all, which can only shine if we learn how to contact it, if we silence our rational-brains long enough to hear the deeper music underneath. As African-American feminist poet Audre Lorde wrote, "Each one of us holds an incredible reserve of creativity and power, of unexamined and unrecorded emotion and feeling… Sometimes we drug ourselves with dreams of new ideas. The head will save us. The brain alone will set us free." But "it is our dreams that point the way to freedom. They are made realizable through our poems that give us the strength and courage to see, to feel, to speak, and to dare."
It felt particularly right, while leading a poetry workshop/open mic the last night of our tour in Christchurch in a café in New Brighton, to speak of this feminine wisdom reawakening. I could see vigourous nods and murmurs in the circle before me as people listened and got ready to pick up their pens. In this city the failure of rational minds to cope with reality has become obvious. The post-earthquake bureaucracy has barred people from entering their own homes and businesses; overwhelmed insurance companies try to weasel out of paying up; the ruptured sewage system continues to pour the city's shit into the sea while the once-gorgeous tap water from artesian wells now bears the sickly aftertaste of chlorine treatment because of sewage contamination. Control mentality has proved itself inadequate. So it felt right again when I told the café gathering one of the rules I use when writing: "Lose control."
But why poetry? Why, in a state of disaster, does two hippie nuts carrying a carload of musical instruments and sacred stones matter at all?
Because of the warmth of hearts connecting. Because endless streams of newspaper and internet accounts of earthquakes never told me nearly as much about the human spirit as I learned from the woman who freestyled a poem about the rumbles and coming to grips with how nothing is solid and the earth's "rhythm and blues" in the café that night. Because that night, as people shared their poems of anger and frustration and even hearty laughter about life in the land of shakes, some sort of healing was happening. Because it's time to turn back to our dream-minds to fuel our hearts for big times ahead. Because in a city shaken to its knees I felt a nuanced spirit of love and sharing pulsing amongst people who were meeting for the first time, in a different way than I had felt when I lived there before; the gap between "stranger" and "friend" seemed to have shortened. Because our lives are not as small as they seem. Because a circle of hearts reaching a high vibration of love together powers up a golden light that travels far beyond that moment and that space. Because the stones hold the stories of the ancestors of this land, who sang their songs into them, and spiral us back (and forward) to the time when all was, is, and will be, one.
As one of our biggest nights we had planned a Saturday night gig in Lyttelton at The Loons – one of the few entertainment venues still operating in the historic funky port town at the epicentre of February's quake, where piles of brick rubble still line the sidewalks and the main street looks like a mouth with the front teeth punched out. At the end of a very long musical night, we called everyone who was left in the audience to gather in close. Our friend Montana Mike joined us onstage for a guitar/mandolin jam with Rhythm, the two of them huddled around a single microphone as though they were embracing. I sang improvised rhymes asking everyone there to share their wisdom from living on shaky ground, with the rest of us who need to learn: how to live in the face of impermanence, how to live in gratitude for the present moment, how to gain perspective on what matters and come together in community. Just performing my own standard poems in Lyttelton that night had been a new experience for me; as I say in my poem "Declaration," which riffs off mistaken concepts of "independence" enshrined in the founding document of my birth land, the USA:
if it all falls apart
there's still enough heart
left in humanity
that we could rediscover self-reliance in each community
for independence is pure fiction as a personal mission
but maybe with just enough taste of catastrophe
parching our lips in hot weather
we could redefine it
together
Staring into those faces in Lyttelton, I recalled Rhythm's accounts of the chaotic days when he had been in Lyttelton just after the quake when everyone was feeding each other. These people could perhaps teach me about the meaning of my own words. So it felt right when at the end of the night the audience sang with us what became a double-entendre chorus about their town, which sits at the end of a tunnel through the mountain from Christchurch. As we all belted out together "there is a light at the end of the tunnel," for an infinite moment we were not on shaky ground (though the earth would rumble loudly and sharply at around 1:30 a.m. that night, my host calmly telling me "oh that was just about a 3.6" as he stumbled off to bed as soon as the house stopped shaking). For just a moment, as our voices rose in song together, there was nothing but that moment. Beings in a circle with hearts aligned in a spirit of love. And the power in that may be greater than any of us know.
Redwood Reider is a spoken word poet based in Golden Bay. Her poetry lives online at www.myspace.com/rebeccapoetry; and her new CD, Poetree, a collaboration with musicians from across NZ and beyond, can be heard and purchased on redwoodthepoet.bandcamp.com.
GD Star Rating
loading...
GD Star Rating
loading...
Shining Light, Shaky Ground: a Poet's Pilgrimage Through Te Wai Pounamu

,