Home » Arts
Book Review: How to Retire in Twelve Months' by Serena Star Leonard.
Submitted by Charlotte on May 21, 2011 – 10:53 am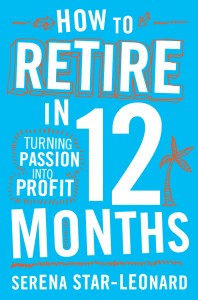 Book review: By Charlotte Squire
"Act like anything is possible … because it is!" This is a line from business coach Serena Star Leonard's new book 'How to Retire in Twelve Months – Turning Passion into Profit', and it pretty much sums up the mood of the book.
This would explain why she very publically set out to create a series of online income streams that would allow her the total freedom to do what ever she wanted, when she wanted. Yes, after her epiphany, Star Leonard set up a 'How to Retire in Twelve Months' blog, told a whole bunch of people she was planning to retire in a year, and gained the support of some strong mentors in the business sector to make it happen. It also helped that she formed some great business partnerships with people who had complementary strengths to hers.
And she did it. Come the one year mark, Serena was just five hundred dollars per week shy of her goal to be earning $2000 per week from the internet. These days she cooks a lot (I read about this on facebook). And she travels.
I've gotta come clean here, Serena Star Leonard was my personal business coach for well over a year. I've been a huge fan of hers ever since I discovered her on Twitter and she gave me a free introductory session on the phone. After that first phone call, I had pages of ideas to run with and I was smitten. She came across as smart, sassy and confident. And she totally 'got' my dreams. Reading her book summarised a lot of the advice she gave me during our weekly chats, in a well ordered and blissfully reasurring kind of way. It was like having her on tap 24/7.
So what's in this book of hers?
As I said, optimism reigns. She divides us homesapiens into three groups: 'Passion Seekers', 'The General Masses' and 'Safe Operators'. Which group do you think she falls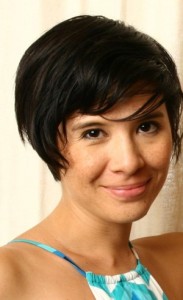 into? And, by the way, which group are you currently moving in? Where-ever you are, read this book and you'll step up your energy by a notch or two. I certainly did.
Star Leonard rehashes that age old adage about money not making us happy, only she does a really good job of explaining why. She tells us how a fulfilling life can actually, truly bring us happiness and financial wealth.
She explains a 'success mindset'. She also covers that old goody 'analysis paralyses' – and how not to get stuck in it – and she explains the reality behind most of the fear we exerience on a day to day basis. She also tells us the story of why persistence and luck are best-friends, how to turn failure into success and the huge importance of 'selective hearing' when one is filled to the brim with a great dream.
She delves into the nitty gritty of making money online, and in her own sweet way she actually makes it seem possible … for pretty much anybody. No really, all you need, according to Star Leonard, is an area of passion and you can most definitely make an online income.
Next, our entrepreneur takes us through a few chapters about how to make money online, how to sell yourself online and how to create your very own products. With each point that she makes, Star Leonard has this knack of making it all seem really simple and straight forward. This is why she's such a great business coach and this is why you've got to get hold of this book.
Her language is simple, friendly, and clear. She explains any jargon she uses, so although I suspect most people will learn a lot from this book, absolutely any English speaking person who uses the internet, and has the strong urge to make money online could read this book and not only 'get it', but begin their own process.
So my conclusion? Yeah! Buy this book! I kept it beside my bed for a while, it was like having a happy little online guru at my side ready to offer practical advice. Thanks to Star Leonard's combo of practical 'been there, done that' advice and fresh faced idealism, I don't think it's possible to read this book and not get a blast of that wonderful and often sought after sensation: hope.
Charlotte Squire
GD Star Rating
loading...
GD Star Rating
loading...
Tags: serena star leonard