Home » Uncategorized
Highlanders Help Kick Off Yellow-eyed Penguin Trust Planting Season
Submitted by Charlotte on May 23, 2011 – 9:52 pm
Thanks to the Speight's Brewery Environment Fund, the Yellow-eyed Penguin Trust Nursery kicked off their planting season this year on International Day of Biological Diversity, Sunday 22 May, 2011 at Tavora Reserve, East Otago.
Over 20 Trust volunteers, staff and supporters pitched in alongside Highlander players Siale Piutau, Shaun Treeby and Highlander marketing manager Doug McSweeney to plant 1000 native trees, shrubs, flaxes and pikao. The aim of the day was to extend the current planting towards the southern beach to enhance the biodiversity where the rare yellow-eyed penguins breed. The restoration of these riparian strips provide ecological and environmental benefits for integrated land-use practices and is the way forward for conservation.
The planting took place as part of the Yellow-eyed Penguin Trust programme of conservation activity using trees from its own nursery, which produces approximately 15,000 trees each year, the bulk of which will be planted in its own reserves this winter.
Sue Murray, General Manager of the Yellow-eyed Penguin Trust said the inaugural planting day was a huge success with much valued support from the 2010 Speight's Brewery grant of 5k, the Highlanders, Trust staff, volunteers and supporters.
"The Speight's fund was a catalyst for the Highlanders to support the Trust on our first planting day of the season and they have indicated they hope to continue to support the Trust on future planting days. Given the Trust's patron Anton Oliver is an Otago rugby icon, we're sure he would be proud of them."
Nursery manager, Anita Pillai said by putting native plants into this area it creates a much richer community, species wise.
"International Day of Biological Diversity recognises this area as an endangered eco-system. The planting today of 600 trees, shrubs alongside 400 flaxes and pikao creates something that doesn't exist locally and gives the community a chance to experience what the coastline used to be like. It is better for all native species and animals in this reserve and helps yellow-eyed penguins to thrive," she said.
Thanks to the  following environmentally responsible business for supporting Happyzine:
Eco-friendly –  Reusable for years upon years
Safe & non-leaching – BPA free (bisphenol-A)
Solid food-grade stainless steel – Super hygienic & clean
The Trust will maintain the new plantings for at least three years, spraying competing exotic grasses and ensuring the protective wire cages are secure, to stop rabbits and hares from damaging the trees.
Anyone interested in making a donation or getting involved with the Yellow-eyed Penguin Trust can visit www.yellow-eyedpenguin.org.nz or Ph 03 479 0011.
Follow Piko the penguin on:
www.facebook.com/pikotheyellow-eyedpenguin
www.twitter.com/pikothepenguin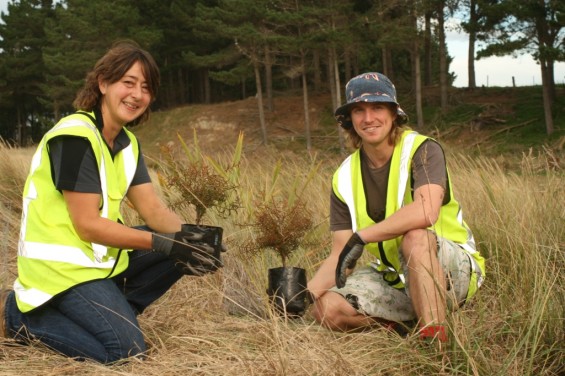 Learn how to kick-start your green career -sign up for this June's online Green Dreams Launch Pad course.
GD Star Rating
loading...
GD Star Rating
loading...