Home » Headline, Youth
Youth Perspective: Morena Ki a Koe from Los Angeles America! by Johny O'Donnell
Submitted by Charlotte on June 10, 2011 – 12:52 pm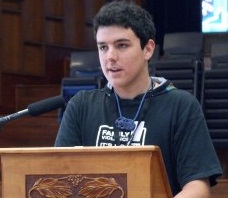 Morena ki a koe from Los Angeles America!
I write this on the last day of my trip to America where I have been since last Wednesday, I travelled over here to speak to the Global Summit on Ending Corporal Punishment and Promoting Positive Discipline- a some what moving event that brought delegates from across the world together in the uniting belief that children worldwide should not be raised on violence as a form of discipline.
I'm going to be regularly blogging on Happyzine and my website johnyodonnell.com from now on, I'm really excited about this because it's giving me an opportunity to share my passion for youth engagement.
Youth engagement brings huge opportunities but also huge risks, my passion is working with organizations to walk alongside them in co-creating an environment where young people and adults can have a meaningful relationship that is built on genuine motivations and endures positive outcomes.
There has certainly never been a greater desire or need for youth engagement, young people make up a large proportion of our overall population and we are failing to engage them in a meaningful way- this presents a huge opportunity for us to turn that picture around and bring young people to the forefront of our work.
Being 17 myself I have a good grip on what it's like to be a young person in todays challenging word but equally so I have plenty of experience working with other young people and trying to engage them in various efforts of social change.
You can read more about my past experiences and beliefs on my website johnyodonnell.com
It's my hope that we can build lots of momentum amongst our communities to really value the practice of youth engagement which is really about honouring young people and all they can offer our communities.
Always in hope and excitement for the potential this movement holds
Mauri Ora
Johny O'Donnell
GD Star Rating
loading...
GD Star Rating
loading...
Youth Perspective: Morena Ki a Koe from Los Angeles America! by Johny O'Donnell

,
Tags: youth leadership