Home » Uncategorized
Eco Friendly NZ Entries Star in Design Lab 2011
Submitted by Charlotte on June 15, 2011 – 7:51 pm
Press release: Electrolux

NZ ENTRIES STAR IN DESIGN LAB 2011
Three New Zealand designers have been selected as top contenders in the global Electrolux Design Lab competition.
From a field of 1,300, the top 25 concepts have been chosen from designers based in 14 countries across the world including USA, South Korea, the Czech Republic, Canada, France, Australia and Poland.
All three concepts come from design students at Massey University. They include a portable dishwasher which can be easily carried by hand, the world's smallest induction hob and a bouncing blender –the 25 Electrolux Design Lab semi-finalists provide 'Intelligent Mobility' solutions for domestic appliances.
From the 25 semi finalists, eight (announced by Electrolux week commencing 11 July) will be invited to present their concept to a jury of expert designers. The jury will consider entries based on intuitive design, innovation and consumer insight when awarding the first prize of a six-month paid internship at an Electrolux global design centre and 5,000 Euros. A second prize of 3,000 Euros and third prize of 2,000 Euros are also on offer. In addition, New Zealand design students will receive $1,000 for reaching the final eight.
"The 2011 Electrolux Design Lab has drawn some very clever responses to what has been our toughest brief since the annual challenge began nine years ago." Said Henrik Otto, SVP Global Design, Electrolux. "The top 25 are to be congratulated on their approach – the combination of lateral thinking and creativity is inspiring. At this stage of the contest, we present the 25 responses that offer the most interesting solutions for future living and best consider the application of intelligent mobility to appliance design."
The New Zealand semi-finalists can be seen below (in random order):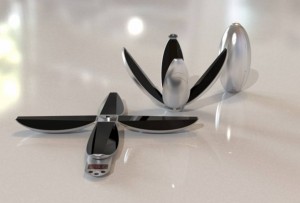 EcoWash Dinner Set
Country: New Zealand
Designer: David Stockton
School: Massey University School of Design
The EcoWash is the ideal dishwasher for countryside vacations, boating, camping or anywhere else where you don't have electricity. After eating, one places cutlery and plates into the round small washing machine, add some washing-up liquid and water, close the latch and start turning the handle on the side. The interior rotates to wash the plates efficiently and effortlessly. After use, open the small hatch below to release the water. If you want to dry the plates, just turn the handle a few more times to create a centrifugal force. It's ecofriendly, handy and easy to carry.
Thanks to the  following environmentally responsible businesses for supporting Happyzine:
Nelson's busy organic shop – healthy food, happy people, great service, caring for the environment.  Corner Tasman & Grove Streets, Nelson.  Ph 03 548 3650.
Heat Grenade
Country: New Zealand
Designer: Sam Evans
School: Massey University
The Heat Grenade is a great looking portable cooking device, conceived for emergency use and powered by paper-thin batteries. These batteries can produce power and recharge from water absorbed from the air. When closed, the concept resembles an oval aluminum egg. However, when the top button is pressed it folds out like a flower to turn into an induction hob with a black glass surface and a control panel that slides out from under it. This is the most stylish emergency kit you can find!
Smoobo Blender
Country: New Zealand
Designer: Roseanne de Bruin
School: Massey University
The Smoobo blender is a fun and environmentally friendly way of making smoothies. Simply put all your favorite ingredients inside the rubber ball, shut the knob tightly and start bouncing it around. The bounce in itself activates the kinetic batteries that in turn make the rotor blades spin, resulting in a perfectly blended smoothie. The Smoobo surface is made of uneven rubber knobs that will make the bounce even more fun as you'll never know what direction the Smoobo will take.
GD Star Rating
loading...
GD Star Rating
loading...
Tags: green design