Home » Community
The Reality of Oil… and the Power of Hands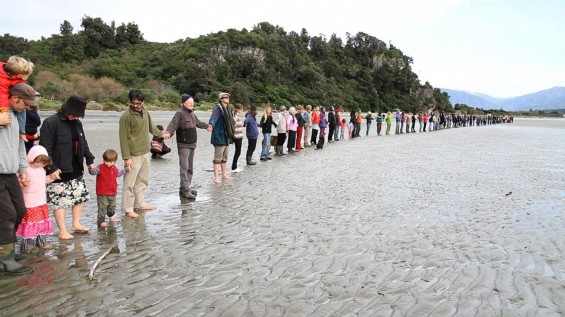 Q: When is an offshore oil drilling plan a good thing?
A: When it doesn't happen!
We got a good scare here last month, in the oceanside paradise community of Golden Bay. A foreign mining company with dubious credentials was applying to explore for oil off the coast and to dig up coal from the land. Fortunately for us, the company, Greywolf Mining, turned out to be dodgy even by oil industry standards, a ghostlike Australian front for a nebulous cabal of Chinese investors (or something like that), and they gave up and scampered away as the truth started to unravel in the media.
Even though the imminent threat has passed from our shores for now, 120 spirited Golden Bay residents (and many of their dogs) turned out this past Saturday afternoon to join hands on the beach. A hand-holding revolution. We were joined in spirit to another 130 people holding hands on the beach just over the hill in Motueka, another 140 round the bay in Nelson, and many more at over a dozen locations around Aotearoa… and uncounted numbers at hundreds of events held across this planet on the same day. The message of the Hands Across the Sand international day of action is simple: no to offshore oil drilling, yes to a clean energy future. The image and alchemy is powerful: people united, holding hands, drawing a human line in the sand.
The community spirit at the Golden Bay event was powerful. As a co-organiser of the event I invited people to feel our connection to those around Aotearoa and across the planet; to feel our connection to the earth; and to remember not just the potentially catastrophic oil developments we oppose, but also what we are FOR: a community united, and a clean, protected ocean. Together we walked out toward the horizon, until we were facing the gentle incoming tide. As we stood in silence on the beach together, I could feel the power pulsing through the line of hands connecting hearts. I could feel the strength of our love for our ocean and this place we call home. And I could feel the wild spirit of sacred spontaneity. When drumbeats signalled the end of our time in a line, no one wanted to let go; the ends of the line spontaneously began walking toward each other across the sand until we stood in a giant circle (actually, as a few people noticed, we first unintentionally formed a giant heart, which then turned into a circle). Words of support were shouted across the huge circle, cries of "kia kaha" flying back and forth across the beach; an OM buzzed around the circle and buzzed back again; and finally we all bent to touch the earth, raised our hands, let go, and shouted our appreciation to the sky.
When I first heard the news, a few months ago, that Greywolf Mining had applied for permits to drill for oil in our clear turquoise waters, like many in this community, I felt alarmed. I headed out to my favourite beach at Wainui Bay, gazing out at the wild waves hitting the cliffs of Abel Tasman National Park on a stormy afternoon, and felt an odd certainty: I knew this place would be protected, this time. And I sensed strongly that somehow this whole thing could be positive – IF people used it as an opportunity to come together.
As peak oil passes and oil prices remain high, the world's petroleum companies are thirsty – and they are hunting for their next fix. Our current New Zealand government has been quietly signing away oil exploration rights to our coastline at an alarming rate in recent years. These contracts typically allocate a mere 5% of proceeds to New Zealand, with the rest going to overseas oil companies; yet the government has publically admitted that New Zealanders would bear responsibility for cleaning up any oil spills. Deep sea oil drilling is incredibly risky, and the country blatantly lacks the technical resources to deal with a major spill. This story has gone largely underreported by mainstream media until recently.
As I researched the oil issue during our local Greywolf debacle, I felt shocked to learn about the near-total absence of democracy in the legal process surrounding petroleum and coal. The government does not even have to notify most of us about proposed oil and mining activities. Under the Crown Minerals Act, local iwi do have to be consulted, but iwi are only allowed to comment on any wahi tapu – sacred sites – within proposed mining areas; iwi are not given the right to say "yay" or "nay" to any particular project. In short, most of us are given little or no voice in the legal process about activities that could drastically affect the places we live.
Thanks to the  following environmentally responsible businesses for supporting Happyzine:
Nelson's busy organic shop – healthy food, happy people, great service, caring for the environment.  Corner Tasman & Grove Streets, Nelson.  Ph 03 548 3650.
So the positive. The positive is that we must learn, and are learning, other ways to express ourselves. Everyone I talked with around the resistance to Greywolf, spoke of how the issue was bringing people together. The Greywolf proposal reignited a coalition of community and environmental groups and iwi who successfully fought off a seabed mining proposal in Golden Bay in 2006. In that case, the mining company, Bonaparte Diamond Mines, received so many letters in opposition that they backed away before their permit could even be considered. The Greywolf proposal "really invigorated the coalition of groups," said community leader Joe Bell. "The iwi have invited the wider community to participate with them, and that's a very positive move." Activists around the country began rallying around the cause as well. "We're totally delighted with the support we get, not just from here, from all over the country," said John Ward-Holmes, kaumātua and spokesperson for local iwi. "I'm getting rung up from people all over New Zealand who are concerned."
Cath Wallace, co-chair of the Environment and Conservation Organisations (ECO), put it simply: "The community can't rely on due process and will have to let its feelings be known politically." The people of Te Whānau-ā-Apanui and supporters, who set out in their tiny fishing boats to block the path of oil company Petrobras' exploration ships off the East Coast a few months ago, gave us all a brave model for that.
The easy connectivity of the Internet has allowed activists across the country to network, share information and organise Hands Across the Sand events. Over 65,000 people have signed a Greenpeace petition calling for no new oil and coal extraction in NZ (take a few seconds to sign the petition here). Last year, the National government was forced to abandon its plans to open our national parks to mining, in the face of massive public outcry. If we want to repeat that victory, we're going to need a lot of voices making noise.
So we're starting simple. This year has been about people power making headlines and changing governments all over the world. When the legislative process is inadequate, we have to find other ways. We are fortunate to live in a place where we can do that without fear of being shot; where we can do it on a beautiful beach, feeling the power of caring community. So we are starting simple. We are learning, again, how to hold hands.
To learn more or get involved in the campaign against offshore oil drilling in New Zealand: http://nodrilling.wordpress.com.
By Rebecca Reider
Images by:
"the universe is made of stories, not of atoms

."
GD Star Rating
loading...
GD Star Rating
loading...
The Reality of Oil… and the Power of Hands

,
Tags: Community