Home » Uncategorized
Clean Energy Centre the Start of Something Big
Submitted by Charlotte on July 4, 2011 – 9:50 am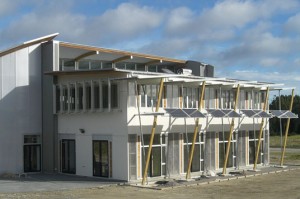 By Nathan Argent
Greenpeace

Yesterday saw the official opening of the New Zealand Clean Energy Centre – the state of the art facility on the shores of the stunning Lake Taupo. The modern and architecturally spectacular building sits comfortably amongst the ancient, bush clad mountains and enchanting landscape.
The whirring wind turbines, bank of solar panels and the inconspicuous geothermal well merely hint at the wealth of innovation and ingenuity that makes this building the beating heart of the clean energy sector in Aotearoa.
The Clean Energy Centre – the model of energy efficient and green design – has been established to accelerate the uptake of clean energy solutions by industry, communities, businesses and households across New Zealand, and is not shy in showcasing its talent to the world.
The event was standing room only and the presentations were strong, clear and resolute in ultimately delivering a single message: that New Zealand is well endowed with renewable energy know-how, blessed with world class engineers and technicians and has the potential to be at the forefront of the global shift to a cleaner, smarter way of doing business.
It was exciting to see such a diverse and rich mix of energy companies and business executives from both home and abroad all under one roof, buoyed by one another's presence and strong in number. They represented the cutting edge of proven renewable technologies in micro-hydro systems, bioenergy, solar, wind and geothermal, and offered a glimpse of the equipment we'll need to safeguard our future energy security.
And that's why it was encouraging to see the Acting Minister for Energy and Resources, Hekia Parata, in attendance, to acknowledge the work of the visionaries that have made the centre a reality. The Minister's words were welcome and warm, and perhaps an indication of a long overdue shift in position for the Ministry of Economic Development, a department that has all too often hampered progressive clean economic policy, favouring the regressive and myopic fossil fuel alternatives.
It struck me that our common ground on clean energy could become more significant in the energy debate than our differences.
Yet, despite the positive rhetoric, there seemed a lack of genuine understanding of what this centre represents to New Zealand's future prosperity, and a lack of a clear indication of what the Government is going to do to support and embrace the opportunities that clean energy could create for our economy.
There's no escaping the fact that Government must play a key role in fostering clean innovation to safeguard our country's future economic growth and energy independence. Shifting to a less polluting way of powering our homes, businesses and industries must no longer be thought of as a 'nice to have,' but instead as a cornerstone of New Zealand's economic development.
Some of the world's most powerful economies, such as India and China, are starting to realise that 'green' can go hand in hand with growth, and are investing hundreds of billions of dollars each year in the clean energy sector. Now is the time for our Government to act to ensure that the technology and businesses that are tooled up and ready to go in Taupo are the driving force behind these global solutions.
Put simply, it's going to take more than carefully crafted speech notes to ensure that the opening of the centre is the beginning of a clean energy epidemic, rather than just an isolated outbreak.
And ultimately, this will require leadership.
GD Star Rating
loading...
GD Star Rating
loading...
Tags: green design