Home » Events
UNICEF NZ Speaker Event – Young Voices of the Pacific
Submitted by Charlotte on July 5, 2011 – 6:35 pm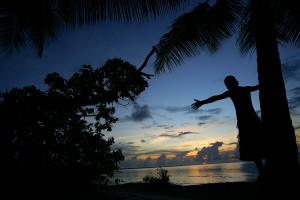 UNICEF NZ (UN Children's Fund)
Media Release
UNICEF NZ Speaker Event – Young Voices of the Pacific
-Monday 18 July in Auckland-
What: A free public event, organised by UNICEF New Zealand and the Auckland University Centre for Pacific Studies, focusing on current challenges facing young people in the Pacific. Learn about youth perspectives on issues like climate change and why the voices of young Pacific Islanders must be heard.
Who: Pacific youth advocates Ms Merewalesi Nailatikau, UNICEF's first Regional Ambassador for the Pacific, and Ms Sainimere Veitata, Co-chair of the Econesian Society at the University of the South Pacific.
Why: As Pacific leaders gather in Auckland this September for the Pacific Islands Forum, UNICEF NZ will be calling for greater attention to and investment in young people's futures.  With more than half of the population of the Pacific under the age of 24, the concerns of the region's young people must be heard by decision makers at this crucial time.
When: Monday 18 July at 6pm
Where: Fale Pasifika, Centre for Pacific Studies, University of Auckland, 20 Wynyard Street
Cost: Free. Please RSVP to takeaction@unicef.org.nz
For further media information please contact:
Karen Gray
UNICEF NZ
Communications Manager
04 815 9387/ 021 851 263
Thanks to the  following environmentally responsible businesses for supporting Happyzine:
Eco-friendly –  Reusable for years upon years
Safe & non-leaching – BPA free (bisphenol-A)
Solid food-grade stainless steel – Super hygienic & clean
About the Speakers
Fiji based Merewalesi Nailatikau, 26, is the first UNICEF Regional Ambassador for the Pacific. The former Miss South Pacific has spearheaded many youth related initiatives and campaigns in the Pacific including the Climate Project, focusing on building the capacities of individuals around the globe to promote climate change awareness. She is also actively involved in the White Ribbon Safe Motherhood initiative and launched a recent suite of UNICEF reports on HIV and AIDS in the Pacific. Mere is a Post Graduate student at the University of the South Pacific in Suva.
Sainmere Veitata is passionate about environmental issues and the need for young people to play a leadership role in environmental management. She is co-chair of the Econesian Society – a group of students from the University of the South Pacific who aim to develop skilled Pacific Island environmental leaders through providing practical awareness and skills in environmental management.
About UNICEF
UNICEF is on the ground in over 150 countries and territories to help children survive and thrive, from early childhood through adolescence.
The world's largest provider of vaccines for developing countries, UNICEF supports child health and nutrition, good water and sanitation, quality basic education for all boys and girls, and the protection of children from violence, exploitation, and AIDS.
UNICEF is funded entirely by the voluntary contributions of individuals, businesses, foundations and governments.
Every $1 donated to us is worth at least $10 in the field thanks to the way we work in partnership with governments, local NGOs and other partners.
GD Star Rating
loading...
GD Star Rating
loading...
Tags: Youth