Home » Uncategorized
White Roofs Presentation Coming up this Month at University of Auckland – with Ian Montangees
Submitted by Charlotte on July 7, 2011 – 3:03 pm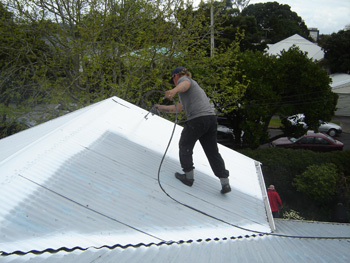 By Ian Montangees
I will be giving a 60 minute presentation on white roofs at this month's meeting hosted by the Engineers for Social Responsibility (ESR) society. As well as of interest to people for roofs on houses and commercial buildings, to it may also be of interest to building managers, air conditioning engineers, and people working in the energy efficiency, sustainability and global warming areas. It is open to the public and you are most welcome to attend and to invite your friends. I have pasted the details below.
"White roofs: a win-win solution for cooler buildings and a cooler planet"
A presentation at the Engineers for Social Responsibility (Inc) Auckland Branch meeting Speaker:  Ian Montanjees
Date and Time:  Thursday 21 July 2011.  7.30 pm to approx 8.30 pm
Venue:  Room 3.407, School of Engineering, University of Auckland, 20 Symonds St, Auckland.
Abstract:
White roofs are finding use as one of the fastest and lowest cost ways of reducing CO2 emissions by reducing energy demand on air conditioning equipment, and also as way of helping reduce global warming by mimicking the way that the polar icecaps reflect sunlight back into space and cool the planet.
This simple idea, thousands of years old, is being taken seriously and implemented by the Obama Administration on Federal roofs in the USA, is now mandatory in California and in some cities such as New York (for new flat roofs), being funded by the European Union as the EU Cool Roofs Council, and cited by the Institution of Mechanical Engineers in the UK as one of three top measures we can take to mitigate global warming.
To explain this trend, this presentation will start by discussing how sunlight is significantly reflected off a white roof and passes largely back into space, whereas sunlight is significantly absorbed by a dark roof and gets converted into heat, much of which is blocked from re-radiating back into space because it is absorbed by greenhouse gases in the atmosphere. Which is why white roofs help cool the planet and are also being used to cool buildings by reducing heat load on roofs, and can provide cost savings and emission savings by reducing the energy demand on air conditioning. Buildings without air conditioning are also benefiting by being cooler and more pleasant to inhabit in summer.
Thanks to the  following environmentally responsible businesses for supporting Happyzine:
Eco-friendly –  Reusable for years upon years
Safe & non-leaching – BPA free (bisphenol-A)
Solid food-grade stainless steel – Super hygienic & clean
The talk will touch on the depth of scientific research into this area, illustrated with real world examples, and how the choice to use white (or off-white) often involves no added cost when made during regular maintenance or at the design stage.
Examples of New Zealand buildings with white roofs will illustrate how some building owners, HVAC engineers and architects have quietly been using this idea for passive cooling, and though it is not well know here in NZ there is much scope for its implementation as a measure for global warming reduction and energy savings.
Ian Montanjees has a varied background, with two degrees (engineering and architecture) and in physics and inventing. He launched the White Roofs Project NZ last year to make a contribution towards reducing global warming by helping spread word of this idea here in New Zealand.
Contact , John La Roche (ESR Secretary) email johnlaroche@xtra.co.nz
LIVE YOUR GREEN DREAM: August – Green Dream Launch Pad Course
GD Star Rating
loading...
GD Star Rating
loading...
Tags: white roofs