Home » Environment
World Leading Environmental Monitoring Tool Launched
Submitted by Charlotte on July 28, 2011 – 6:50 pm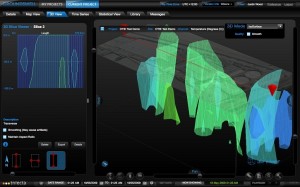 Media Release
July 27, 2011
For Immediate Release
World leading environmental monitoring tool launched
The world's first real-time, automated, web-based mass flux monitoring solution, which allows users to monitor and analyse the dispersion of pollutants, has been launched in New Zealand.
Trifecta Global Infrastructure Solutions has developed a patented solution, Waiora Earth Monitoring Software, for integrating environmental sensors, web mapping and data processing to deliver real-time contour maps and models of contamination levels and their rate of change.
The New Zealand based software company has confirmed an exclusive agreement with Tuia Group, which will market the groundbreaking software. Waiora (meaning pure water) is the world's first internet based solution to generate interactive, real-time outputs based on what is actually happening in the environment. Waiora has proved itself in US Environmental Protection Agency trials to provide fast, accurate and cost effective tools for long term monitoring remediation and resource management regarding the dispersion of pollutants in groundwater and other areas of concern.
While the software will be a valuable tool for local governments, councils, industry and researchers, it is Māori and local iwi who have expressed the greatest interest.
Tuia Group Director, Mike Taitoko says that the agreement gives Māori a stronger voice in the management and sustainability of New Zealand's natural water assets.
"Recent natural disasters, intensified farming, water shortages and declining water quality have drawn attention to the widespread contamination of our freshwater resources.
"Through kaitiakitanga, Māori have a unique part to play in the management of our rivers, lakes, streams and aquifers. Waiora gives Māori the opportunity to take a
leadership role in freshwater management by combining new ideas and technologies with the traditional concepts of guardianship and preservation," Taitoko says.
Based on the concept that a picture is worth a thousand words, Waiora uses real-time scientific data and converts it into two and three-dimensional images of, for example,contaminant dispersions (using mass flux modelling) or aquifer storage levels which are easy for anyone to understand.
"The technology is exciting as it allows scientists and non-scientists to collaborate around a common platform, using actual information. It will help our clients quickly
appreciate the challenges around water quality and utilisation, and identify solutions to address these."
Trifecta is the leading developer of web based geospatial information software (GIS) solutions specifically designed to automate infrastructure asset management and
workflows for government, utilities, and other stakeholders, worldwide.
Tuia Group was established four years ago to offer governance, economic development and legal services to the public, private and Māori sectors. This licensing
deal is seen as a strategic coup for the firm and they are predicting strong interest in Waiora.
"Fresh water is essential to the health, economic growth, natural environment and cultural heritage of all New Zealanders," Taitoko adds.
Clark Easter, founder and CEO of Trifecta also welcomes the announcement. "Environmental monitoring and compliance is going to be a keydriver globally in the coming years. Trifecta is pleased to have a partner so dedicated to the sustainable future of New Zealand."
Tuia Group's partnership with Trifecta will position them as leaders in the ability to communicate visually, the management and utilisation of natural water assets in the Māori sector. But most importantly, it offers all stakeholders in this space greater capability to manage the long-term sustainability of New Zealand's freshwater
resources to the benefit of all.
GD Star Rating
loading...
GD Star Rating
loading...
Tags: environmental monitoring