Home » Uncategorized
The Hunt is On for the Nation's Greenest Fingers
Submitted by Charlotte on August 1, 2011 – 10:44 am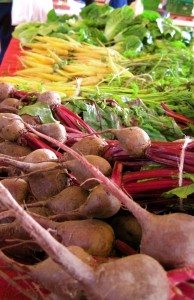 The hunt is on for great Kiwi gardeners, and for the country's best school vege patch and community plot. NZ Gardener magazine, in association with Kiwicare, is calling for nominations in NZ Gardener's 2011 Gardener of the Year.
With more than $20,000 in prizes up for grabs and new categories for school and community gardens just introduced, NZ Gardener editor Jo McCarroll says the competition, now in its fifth year, is aiming to celebrate New Zealand's horticultural heroes.
"There are people creating and maintaining beautiful gardens all over the country, but that's not what this competition is about," Jo says. "Gardener of the Year is about acknowledging the amazing gardeners who are making a difference at the grass roots, often working to make their communities stronger, happier and healthier places.
"Last year we had regional finalists who had done amazing things," she says. "Our Waikato finalist Alwyn Seeley had spent 60 years planting native trees to attract birds into central Hamilton. Our Otago finalist Les Cleveland had donated more than two million daffodil bulbs to the city of Dunedin to be planted in parks and public spaces. On the West Coast, regional finalist Barbara Forrest had created a garden of old fashioned flowers for patients in the dementia unit at Greymouth Hospital where her father is a resident."
The eventual winner of the overall Gardener of the Year title is decided by public vote; and in 2010 it was Canterbury's Alan 'Jonesy' Jones, a volunteer who had started teaching kids at Leeston Primary about growing fruit and veges and ended up inspiring the whole community to get growing.
"Actually the overall winner has come from Canterbury for the last two years," Jo says. "So it'll be interesting to see the Garden City can make it a hat-trick and take it away again this year!"
New categories for school and community gardens needed to be introduced because of the explosive growth of such initiatives all over New Zealand, Jo says.
"Gardening often brings people together so this year as well as celebrating individuals we're recognising some of the amazing gardens created by community groups and the people inspiring the next generation of gardeners in schools all over the country. I'm expecting a huge number of entries in these new categories."
The Best School Garden and the Best Community Garden will each receive $1000 worth of Mitre 10 vouchers and $1000 of Kiwicare garden products.
Thanks to the  following environmentally responsible businesses for supporting Happyzine:
Eco-friendly –  Reusable for years upon years
Safe & non-leaching – BPA free (bisphenol-A)
Solid food-grade stainless steel – Super hygienic & clean
Regional winners will be selected from Northland, Auckland, Waikato, Bay of Plenty, Gisborne, Hawke's Bay, Manawatu-Wanganui, Taranaki, Wellington, Nelson, Marlborough, West Coast, Canterbury, Otago and Southland.
Each regional winner takes home over $750 worth of prizes, including: $100 of Yates Nature's Way products, $100 of Incredible Edibles fruiting plants, a box of Flower Carpet Amber roses, $100 of Tui garden products, $100 of Gardena watering products, $100 of Kings Seeds vouchers, a Bosch cordless power tool, a double pass to the 2011 Ellerslie Flower Show, and a 12-month subscription to NZ Gardener magazine.
The overall 2011 Gardener of the Year will receive $3000 of Mitre 10 vouchers and a year's supply of Kiwicare products, plus a luxury trip for two to the 2012 Ellerslie Flower Show.
Nominations close on 12 September 2011.  For full competition details, see the August issue of NZ Gardener or visit www.nzgardener.co.nz.
How to enter NZ Gardener's 2011 Gardener of the Year competition
Send a letter to NZ Gardener to nominate the most passionate gardener in your region; or a local school or community garden. Detail why they'd make a worthy winner and don't forget to include your name and phone number, plus contact details for the person you've nominated, or someone involved with the school garden or community plot. Entries close on 12 September 2011.
Nominations can be sent to NZ Gardener 2011 Gardener of the Year, PO Box 6341, Wellesley St, Auckland 1141, or email: contests@nzgardener.co.nz.
The regional winners will be announced in the magazine's November issue and the winner in the January issue.
GREEN DREAM LAUNCH PAD COURSE – FOR PARENTS!
GD Star Rating
loading...
GD Star Rating
loading...
Tags: Gardening