Home » Green technology
Hemp, Wool and Eco-friendly Fabrics, Plus Recycled Materials Feature at the Starfish NZ Fashion Show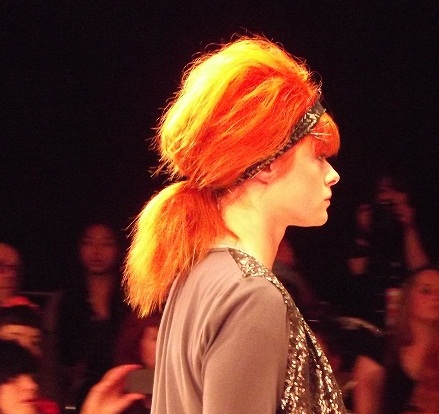 Happyzine writer Claire Chateau Checks Out the Starfish NZ Fashion show
A month ago, I dragged my four kids to Auckland for some cultural time and a bit of a city splurge.  My children, used to the Northland outdoors, never travel anywhere without their pet mice and their riding tools. As they were unicycling down Ponsonby – nice flat ground for my still not completely experimented one-wheelists- and I was running after them making sure they were keeping away from the shops' windows, I discovered the lovely newly opened Starfish boutique (186 Ponsonby Road), replacing the previous Christchurch one, which is now closed.
I went in to dream a bit and check out the creator's sales, and I was curious to try on some Veja – eco and fair trade Brazilean and French designed sneakers, cocorico – which I had only seen in my favourite magazines before. My enthusiasm must have shown as the shop manager kindly offered me an entry to the upcoming NZ Fashion Show. When I went back to my kids I was bouncy, a bit like them when they are trying to do tricks on their unicycle!!
Well, my dream of attending my first ethical show FOR REAL came true when I finally got my ticket for the premiere of the winter 2012 collection of Laurie Foon's Lunatopia.
Around the concept of celebrating "trailblazing style icons that shoot for the stars – rebels, visionaries and daydreamers who have come to define the times by boldly pursuing new ideas and taking big risks" , the show appealed to me as I'm reconsidering my existence and looking at all the heroine's options since I recently turned forty.
The Lunaopia Collection featured a series of garments in Hemp and wool fabrics, following the 2012 tendencies of post bling-bling but still dynamic, mixed gendered / androgyny, (the masculine vest feminised), jewel cluster embroideries adorning the necklines of jackets and a je-ne-sais-quoi "glamour rock" look. There was a challenge in showing a glamorous collection out of eco-friendly fabrics and recycled materials were used, as well as fringes, sequins and Lurex silks from India. These mixed beautifully with the NZ-made fabric.
I liked the "ethno-urban" feel of the overall collection, which presented what looked like comfortable yet sophisticated clothes. I completely flashed on orange silky slim trousers with an autumnal-colored blouse….Great to go down Ponsonby, but I'm not so sure on the high-heels you must wear them with to run after kids on their unicycles!
Laurie Foon, beware, I'll be back to your boutique on my next trip down…
To view the collection.http://tvnz.co.nz/fashion-week-on-u/live-starfish-video-4367977
GD Star Rating
loading...
GD Star Rating
loading...
Tags: Eco-Fashion, green design