Home » Business
2011 NZI National Sustainable Business Network Awards Case Study: Framework Trust
Submitted by Charlotte on September 14, 2011 – 10:06 am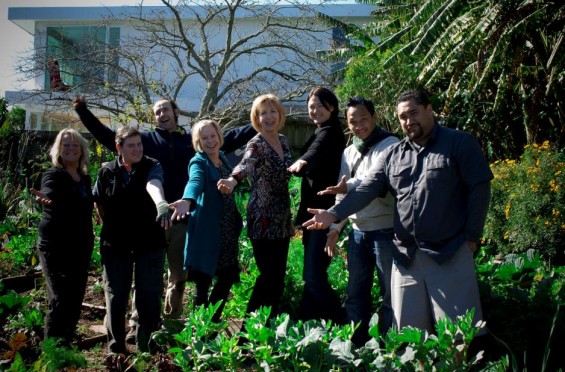 Framework Trust will progress onto the 2011 NZI National Sustainable Business Network Awards as finalists – these awards take place on 8 November in Auckland.  You can vote for  Framework to win the People's Choice award  between the 8th of October and the 28th of October here.
Paving a Sustainable Path to Recovery
Framework delivers community based mental health and intellectual disability services for the greater Auckland region from strategic locations throughout the city. This not for profit organisation takes an integrated approach to the delivery of its numerous services, which primarily focus on developing vocational skills, supported employment, and providing education and training. These services are closely aligned with employers to assist mental health consumers' transition back into employment and society.
As part of the community orientated strategy, Framework operates two certified Organic City Farms, in Grey Lynn and Devonport, where clients are supported in their recovery through therapeutic horticulture and healthy living skills.
The sole focus of Framework is to improve clients' quality of life, through restoring a positive sense of self and meaningful sense of belonging, while actively  self-managing mental illness rebuilding their life, and actively contributing within the community. This is an ongoing process premised on partnerships between clients, their family, employees and society. Enriching the lives of individuals and their families through fostered resilience and recovery allows those with mental illness and intellectual disabilities to participate more actively in their communities.
Given that the nature of Framework's work is service orientated, the use of material resources is relatively low.  Nonetheless, the importance of environmental and social responsibility is recognized as fundamental to the long-term organisational vision and mission, and therefore continuous improvements to resource use and management are being made.
"Framework sees itself as cutting edge in terms of being a sustainable NGO in the mental health sector, setting us apart from other organisations. Our change in procurement processes has influenced our point of difference and has an economical and environmental impact. In turn, this raises our social and environmental responsibility and profile. As sustainability and environmental issues increase in importance, we have the opportunity to be leaders in influencing other organisations and networks in our field."  Colin Hayes, CEO, Framework
Frame work have taken the following sustainable action:
a) Travel
• Fleet of 60 2L vehicles replaced by 30 1.3 and 1.5L regularly serviced Colts.
• New head office strategically located next to a train station, promoting public transport use by employees and
clients. Client visits planned to maximise carpooling opportunities and employees are able to work from home.
b) Electricity
• Services have been merged, meaning individual heat pumps are no longer required.
• Office equipment with high energy star ratings or timers has been purchased in order to reduce energy
consumption, and turning off computers and lights when not in use is institutional policy.
• Sensor lighting has been installed in communal employee areas and bathrooms.
c) Waste
• Cardboard containers and recycling bins present at all sites, along with wall charts to educate employees and
clients about how to recycle and minimise waste.
• Recyclable packaging is requested for purchased products and 'E-waste' is collected and recycled.
• Framework sites use eco products to prevent toxic discharge to waterways.
• Organic City Gardens' worm bins recycle organic waste from the organisation and wider community (drop-off).
• All Framework sites collect waste for their worm farms.
• Client records are kept on a database reducing the paper mountain.
d) Water
• Increased use of mulch in garden beds and collection of rainwater in high volume tanks has minimized water use in the Organic City Gardens, Framework's largest consumers of water within the organisation.
e) Building
• Well located new office also has excellent natural light and office design optimises this.
• Office fit out included rewiring and adding sensors to allow lighting to be switched off when not in use.
Commitment
Framework has established a Sustainability Committee consisting of representatives from all their services and locations which is supported by the Board of Trustees and Senior Leadership Team.
Framework's sustainable action has lead to the following results:
The actions taken to increase Framework's sustainability have led to a variety of improvements, including reduced travel times and petrol costs, reduced energy usage at multiple office sites, reduced inorganic and organic waste, higher recycling rates, and minimised water usage.
Awards Framework have received:
• Winner of the Trailblazer Not for Profit Award in the 2011 Northern Regional SBN Awards
• Finalist for the Trailblazer Not for Profit Award in the 2011 NZI National SBN Awards
• Winner of the Trailblazer Not for Profit Award at the 2009 Northern Regional SBN Awards; Recipient of Judges
Commendation in the Trailblazer Not for Profit Category of the 2009 NZI National SBN Awards
SBN Judge's comments:
• Framework Trust has an excellent understanding and articulation of the challenges facing them. Led by a really great vision and integrative, practical approach, their commitment and action on a range of sustainability initiatives are very impressive.
• Especially impressed to see the continued development of their organic city gardens, the high levels of community engagement, the encouraging of clients to volunteer in the community, the commitment and action dedicated to making travel more sustainable, the recycling of waste and water saving initiatives, extensive staff
training, and the collaborative approach taken to extending core services to sustainability.
http://www.framework.org.nz
Colin Hayes
1984, throughout Auckland
Mental health and intellectual disability services
GD Star Rating
loading...
GD Star Rating
loading...
Tags: sustainable business