Home » Business
2011 NZI National Sustainable Business Network Awards Case Study: Miranda Brown Conscious Cloth
Submitted by Charlotte on September 15, 2011 – 3:05 pm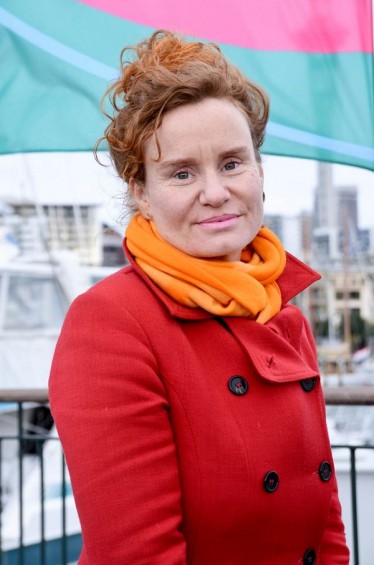 Sustainable Fashion Means Connecting With Nature
Miranda Brown Conscious Cloth creates fashion and textiles that are in harmony with nature and value the whole of existence. Our brand vision is to create textiles and products of great beauty that reflect the brilliance and magic of nature. We care about all aspects of design from intention through to the production and the delivery of timeless objects. Using natural materials, including 70% MAPP merino wool, Miranda Brown engages in Fair Trade and Made in NZ practices. The business focuses on the importance of the supply chain, ensuring the best quality and processes make as low as possible impact on the planet, while adding value to people's lives.
How sustainability is an integral part of Miranda Brown Conscious Cloth
At Miranda Brown Conscious Cloth, they believe in a holistic creative philosophy that connects everything they do back to nature. Every facet of their business is connected to the idea of making a positive impact on the planet. They always ask themselves how their business can reflect this in every decision, every stitch, and every step they take. They work to a Quadruple Bottom Line: environmental, economic, social and spiritual.
They create beautifully crafted products that are timeless and are made to last; not something you will want to discard after a season. They carefully select all materials so that they're derived from nature. They use sustainable practices in our studio and workplace. All materials, suppliers, contractors and partners are chosen to reflect their sustainable vision.
"Sustainability is about being in harmony with nature and all life. Nature is highly intelligent and if we can tune into this intelligence and mirror the solutions, we will be in balance with our environment and one another."  Miranda Brown, Director/Designer – Miranda Brown Conscious Cloth
Sustainable action:
Travel
• Miranda Brown Conscious Cloth (MBCC) is a home/studio-based business which reduces travel and petrol consumption considerably.
• The design to manufacture process is implemented in a way that is efficient and effective with sustainability goals at the forefront. Production is managed through CMT: Cut/ Make/ Trim manufacturers to minimise transport and handle of materials and processes. They use courier services and minimise vehicle use to the bare
minimum. All transport routes are scheduled to maximise efficient use of time and petrol and therefore carbon emissions.
• Miranda's vehicle is regularly serviced for clean running and premium petrol is used for cleaner burning.
Waste
• MBCC is a highly efficient design house that prides itself on minimisation of waste as well as reusing and recycling. Only the amount of fabric required is ordered and any surplus is made into baby wear or short style runs. Designs are created to ensure the best yield of fabric and this season they're designing Zero waste garments and subtraction cutting to maximise use of resources and minimise waste.
• Scrap fabric is given to school groups.
• Office stationary and paper resource is all carefully managed, from purchasing recycled products to recycling in house. Swing tags are recycled into labels and marketing collateral, including postcards, become branding for packaging if there is surplus.
• Plastics are avoided where possible and recycled as required e.g. one roll of plastic clothing bags has lasted 10 years. They are reused multiple times.
• Their new policy around plastic is to reuse other suppliers and designers plastic to create any packaging required by MBCC.
Energy
• As a design house, Energy as an important consideration when making purchasing decisions e.g. if a textile requires too much energy to manufacture, they will not use it. They choose renewable natural supply chains local where possible e.g. NZ merino wool is the primary resource and has many sustainable qualities.
• Power use in-house is always considered with the minimal appliances used. Meridian Energy is their power supplier, chosen for their environmental practices and sustainable developments in renewable energy.
Fashion-Specific
Materials MBCC chooses:
• Natural Materials – biological loop, therefore the fibres break down in landfill.
• MAPP merino locally sourced to support local markets.
• Certified organic cotton sourced from Turkey and India.
• 100% silk
• 100% linen
• Bamboo
• Wood pulp fibre, Tencel and Viscose.
Techniques MBCC uses:
• Timeless Design
• Design and Cutting techniques that minimise wastage.
• Shibori dyeing technique which has no wastage as all the dye is absorbed in the fabric.
• GOTS dyes used for in-house dyeing and out-source dyeing. GOTS-approved dyes have minimised heavy metals and meet international standards.
Environmental
Miranda Brown Conscious Cloth is a trailblazer and leader in the market place; influencing consumers and softly educating them to have a conscious relationship with consumption. The benefits of driving an environmental business mean that they have the ability to affect their supply chain; influence suppliers, consumers, and media; as well as the lifecycle of the garment. The footprint of an MBCC product is softer and cleaner than many competitors due to their sustainable design process; choice of materials; manufacturing in NZ; recycling; and renewable energy focus.
Influence
• Influencing suppliers is an ongoing issue for MBCC and something they're committed to. They request traceability, and source of origin and processing.
• MBCC has textiles that are standard each season, namely merino and organic cotton. Merino wool is a shifting commodity which means accessing NZ MAPP fibre requires large quantity minimums that are out of reach for their company. Therefore they use up to 50% MAPP and 50% blend of NZ and Australia fibre. While cheap Chinese and Korean merino is available, they choose not to buy this option.
• One particular supplier is sympathetic to traceability requests and understands the value of this; MBCC is increasing trade with them for this very reason.
• Their main manufacturer and printer are sympathetic to MBCC's sustainability requirements and are embracing the responsibilities of sustainable practices.
• All of their contract manufacturers support local communities with Fair Trade and are chosen for their sustainable practices
• MBCC supports Fair Trade products in the studio, including consumables, cleaning products and administrative stationery.
Community
The social impacts of the business are via community involvement; donations to NGO's and Not for Profits;  contributions-in-kind for school fundraising; and the time Miranda invests in role-modelling, supporting students, creative sector entrepreneurs and environmental groups e.g. Enviroschools.
MBCC is actively engaged in the community through the arts, in particular public art. The New Lynn Railway Interchange is an example of their community  collaboration in the arts. 'Fabrics of our culture' is a commissioned artwork by Waitakere City Council [2011] that reflects the four migrations of cultures to New Lynn. As part of this process, Miranda consulted and ran workshops with local people across the Asian, Maori, European and Polynesian cultures. This artwork exists on the glass and is still in development with an extension going onto the Factory walls.
They donate to not for profit organisations and charities on a regular basis, e.g. Enviroschools, Greenpeace, Christchurch Earthquake White Cross, local schools, fundraisers for important causes.
Awards:
• Commendation Trailblazer Small and Medium Business Award: 2011 Northern Sustainable Business Network Awards
Judges Comments:
The judges were impressed with the following:
• Exceptionally strong adherence to core values of sustainability.
• Use of renewable and locally sourced materials in design of clothing.
• Impressive clarity of stakeholders, engagement plans, and commitment to educating customers and wider marketplace (on many levels across many mediums) about sustainability.
• Strong vision and acommitment to sourcing more sustainable products.
www.mirandabrown.co.nz
Miranda Brown, Director/Designer
2002, Auckland
Sustainable Fashion
GD Star Rating
loading...
GD Star Rating
loading...
Tags: green design, sustainable business