Home » Music
RubberBand's 'Unique Sound' Wins Over Judges at Smokefree Pacifica Beats
Submitted by Charlotte on September 25, 2011 – 9:55 am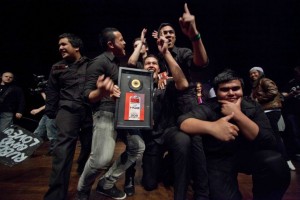 Auckland band RubberBand is the winner of this year's Smokefree Pacifica Beats–the biggest youth competition for original, contemporary music that reflects New Zealand's unique cultural identity.
The six top bands played off in Manukau City on Saturday night after being selected from regional finals around the country. The winner comes away with a $10,000 NZ On Air grant to record a song and music video for release. Acts that have come through previous Smokefree Pacifica Beats include Nesian Mystik, Adeaze, and chart climbing R'n'B singer Ria.
RubberBand are from Manurewa High School and formed 18 months ago.
All members have been playing and performing for many years, with most of them clocking large hours in the Polynesian church band scene. Influences include Sons of Zion, Ryan Leslie and Three Houses Down.
Teacher Tim Randle says the band is proud to be able to celebrate the music of New Zealand and the win is a dream come true.
One of the judges Tama Waipara says RubberBand won because they had a clear sound and a unique quality that stood out.
eXidus from  Waiopehu College in Levin took second place.
Smokefree Pacifica Beats is run by the Youth Performance Trust to encourage young people to create and perform original, contemporary music that reflects the unique cultural identity of Aotearoa New Zealand.
Spokesperson Elena Lome says the quality of this year's entries was very high and the bands' standard of musicianship continues to grow every year.
The competition is a partnership with the anti-tobacco campaign Smoking Not Our Future. Manager Susie Robertson says Smokefree is involved with the event to encourage young people to be smokefree.
"Its not just about getting smokefree messages in front of large amounts of young people and their families – its about youth having fun with being smokefree," Susie Robertson says.
If you want to film or photograph the top six bands that competed in Smokefree Pacifica Beats they are performing today (Sunday 25 September) at 11am at Queen's Wharf.
GD Star Rating
loading...
GD Star Rating
loading...