Home » Events
Gollum and Family Zip into Queenstown
Submitted by Charlotte on October 25, 2011 – 2:03 pm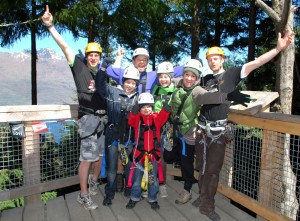 25 October 2011
Gollum and family zip into Queenstown
It was fun for all the family when Lord of the Rings and Hobbit actor Andy Serkis who plays Gollum/Smeagol zipped into Queenstown on Sunday (23 October) with Ziptrek Ecotours.
The actor and his family took part in the exhilarating Kea 6-Line Tour which features the world's steepest tree to tree flying fox.  A new system allowing a reduced weight limit of 30kg meant Andy's children were able to join him and his wife on the fun and exciting ecotour.
The family was in Queenstown while taking a break from filming The Hobbit.
GD Star Rating
loading...
GD Star Rating
loading...
Tags: Family