Home » Events
How to Make Your Own Shampoo – An Easy Thing to Do This Car Free Sunday!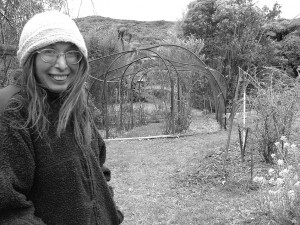 By Joanna Piekarski
After reading in Organic New Zealand magazine that even some body care products sold in organic shops contain harmful ingredients, I started making my own shampoo.  Like growing and making other items you need instead of buying them, making shampoo is a pleasant and satisfying process.  The three simple, mild ingredients are distilled water, castile soap and fresh or dried herbs.  I use the classic liquid Dr Bronner's soap, which contains only organic oils, essential oils, citric acid (from fruit) and vitamin E.  You can start with the fragrance-free "baby mild" soap or match your herbs to one of the essential oil scented choices, perhaps rose, lavender or tea tree.
Find a bottle for the finished shampoo, ideally with a cap that's easy to pour from.
Select two or three dried herbs from your pantry or fresh ones from your garden, or some of each. Lavender flowers, rosemary, red clover, horsetail, chamomile and marigold are good choices for any type of hair.  Cut up or crush the herbs to release more of the aroma, for a total of six tablespoons or more.  I like mine really strong — I use about six ounces of herbs, which is 12 tablespoons.
Pour 4 tablespoons castile soap into a bottle that will contain the finished shampoo. 
Pour 7 ounces distilled water into a small pot and bring to a boil.
Place the herbs in a strainer over a glass jar or bowl.  Pour the boiled water over, cover and let steep ten minutes to half an hour, again depending on how strong you want your shampoo  Then pour the herbal water into the bottle with the liquid castile soap.
It's delightful to wash your hair with this fresh, pure, naturally fragrant shampoo!
Make several bottles and give as gifts.
Herbs for specific hair types and issues:
Oily hair: peppermint, rosemary, nettle, burdock, tea tree leaves, lemon grass and orris root
Dry hair: crushed lavender flowers, crushed orange flowers, red clover, comfrey, elder flowers, chamomile or marigold.  Add jojoba oil to the shampoo.
Coarse or curly black hair: sage, lavender, nettle, rosemary, comfrey and indigo root
Blonde hair:  light-coloured herbs
Grey hair:  nettle, sage or rosemary plus any herbs recommended for your type of hair
Hair loss: tea tree leaves, nettle, sage, basil, rosemary and lavender flowers
Dandruff: peppermint, lemon grass, birch and white willow bark, nettle and comfrey leaves
Joanna Piekarski lives with her true love Ro Piekarski in Pohara, Golden Bay where they run their property along permaculture principles, and are highly self-sufficient.
Want to go Car Free this Sunday? Read this article:
GD Star Rating
loading...
GD Star Rating
loading...
How to Make Your Own Shampoo - An Easy Thing to Do This Car Free Sunday!

,
Tags: car free, herbs, three car free days