Home » Events
How Will You Get from A to B this Car Free Sunday (November 27th)? Most Creative Ways Win New Coloured ECOtankas!
Submitted by Charlotte on November 14, 2011 – 2:18 pm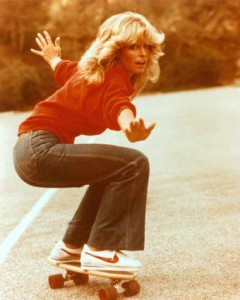 Get your skates on this Car Free Sunday!  Or ride your scooter, skate board, pogo stick …
In a positive, proactive response to the Rena oil spill off the coast of Tauranga, people are forgetting fossil fuels this Sunday 27th of November in favour of using more creative ways to get from A to B and getting back to the 'good life'.
ECOtanka – who produce eco-friendly stainless steel drink bottles – have offered some of their new coloured range of sports drink bottles to people who demonstrate the most creative ways they get from A to B.
Says Charlotte Squire, organiser:
"Car Free Sundays can be a really fun way of imagining life with-out fossil fuels.  We're going to get super innovative with our transport, and enjoy some feel-good activities next Car Free Sunday.  These days are a great reason to spend time getting to know people in our neighbourhoods at community get-togethers, to get stuck into some great projects at home, or spend some quality time with the important people in our lives."
There will also be spot prizes awarded to people who email in the amount of kilometres they avoid driving.
The third and final Car Free Sunday is scheduled for December 18th, 2011.
For more information check out: http://happyzine.co.nz/2011/10/30/three-car-free-days-planned-in-response-to-the-tauranga-
oil-spill-over-the-next-three-months/
Are you organising a community picnic, or gathering for the next Car Free Sunday, let us know and we'll spread the word!  Email: info@happyzine.co.nz
GD Star Rating
loading...
GD Star Rating
loading...
How Will You Get from A to B this Car Free Sunday (November 27th)? Most Creative Ways Win New Coloured ECOtankas!

,
Tags: Car Free Sunday