Home » Community
Pop Up Picnic Rocks Lake Hawea and Sets Sights On The Glacier
Submitted by Charlotte on December 13, 2011 – 1:32 pm
Media Release
13th November 2011
For Immediate Release
Annabel Wilson
Drawn by the mystique of a boutique festival which promised to 'Pop Up' at the edge of Lake Hawea last Sunday, over 100 picnickers enjoyed an afternoon of art, live poetry, soulful beats and tasty treats whilst supporting the expansion of local indie radio station, Beats FM.
Beginning with a karakia from DJ Howie followed by an entirely Te Reo music set, the event was auspiciously blessed. Balmy weather and blissfully still waters welcomed the visitors to the Black Shack as they explored the native garden and sampled the wares of local artisans including Red Star luxury barbeque, Venus coffee, The Kiwi Diary, Penny Foggo jewellery, Codswallop and Balderdash, street art by Pol Sifter, vintage clothing, handcrafted bags, face painting, native plants, retro homeware, real fruit ice creams, homemade seasonal crafts, preserves and cupcakes.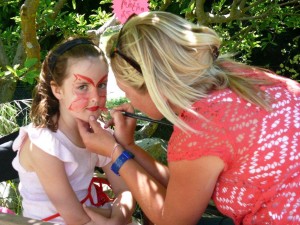 Sprawling over the lawns around The Black Shack, the crowd soaked up the tunes and the view as they relaxed on picnic rugs and fittingly quaint 1950′s sofas. Those who ventured inside perused the collectable kitsch treasures on sale, with loveheart astroturf welcome mats, old fashioned milk bottles and cake tins being among the most coveted items. As afternoon temperatures rose, several revellers indulged in a dip in the lake, before returning to enjoy back-to-back dj sets from Vudu Sue and The Nomad.
Supported by Wanaka Wastebusters, Wanaka Hire Centre, The Summit Collective, Red Star, Venus Coffee and Jumping Tangents, the event raised over $550 for Beats FM, which will help towards paying for transmitters in Hawea and Albert Town. Shack owner Annabel Wilson said "We were delighted with the tremendous turn-out and the positive vibe generated by Pop Up Picnic. The afternoon was a great way to celebrate the collective momentum of our local community radio station. It was cool to see so many people stoked on having a spontaneous picnic in the sun. It meant we could also showcase the magic of this special – and somewhat secret – little place nestled into a quiet corner of Lake Hawea. I'm looking forward to hosting more similar events at The Black Shack in the future."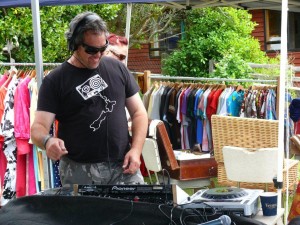 Beats FM owner Sam Hudson expressed her gratitude to all who helped make the niche picnic happen: "A huge thank you to our supporters, djs, listeners and pop uppers. Everyone made an awesome effort which was much appreciated. Pop Up Picnic was so successful, we're having another next weekend in Franz Joseph. Come and join us on the West Coast on Saturday December 17 to bring Beats FM to the glacier!"
With a third Pop Up Picnic pencilled in for mid January, the organisers encourage potential picnickers to listen out on Beats FM ( 87.7fm Queenstown, 107.7fm Arrowtown, 107.3fm Wanaka CBD, 88.0fm Wanaka, 88.0fm Albert Town, 88.0fm Hawea Flat ) for further details about the upcoming venues, dates and times of their roving niche picnics which are set to speckle this summer with great sounds and good times all over Otago.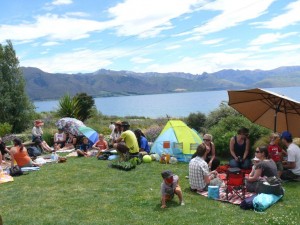 GD Star Rating
loading...
GD Star Rating
loading...
Tags: pop-up picnic, wanaka