Home » Arts
The Kiwi Diary 2012: A year-long celebration of Kiwi culture and creativity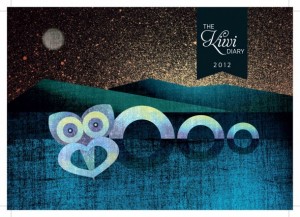 Media Release
16 December 2011
For immediate release
THE KIWI DIARY 2012: A year-long celebration of Kiwi culture and creativity
They're back!  Freda Wells and Annabel Wilson, the two friends behind The Kiwi Diary, are happily delivering design-led style and inspiration to bookshops, galleries, cafés and Christmas stockings all over the country once again.  With ample space to plan your life throughout 2012, The Kiwi Diary is a window into the thriving heart of Kiwi culture, peppering each month with equal measures of innovation, inspiration and nostalgia.  This 250 page, full colour publication proudly showcases established and emerging Kiwi artists, writers and poets.  The diary concept has been improved and refined over the years, so that a discerning new breed of diary has evolved into a must-have for lovers of Aotearoa the world over. Each page is transformed into a vehicle for inspiration with delicious Kiwi recipes, Te Reo, famous Kiwi quotes, historic moments, tips on sustainable living and thought-provoking articles delivering mindfood that renders the blank-paged ordinary diary a distant memory.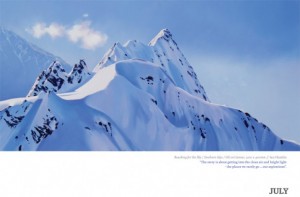 Back in 2004 Annabel Wilson, a secondary school English teacher and freelance writer, took her novel concept to Freda Wells, passionate ecologist and all-round creative, with whom she had a long history of "random creative projects" to help bring her idea into fruition. Together they collaborate with artists, designers, gardeners, foodies, scientists, writers, and original thinkers around New Zealand to create a daily planner to fuel what they call the "inspiration cycle", 365 days a year. This year's line up of stunningly diverse contributors include stencil artist Flox, food stylist and photographer Emma Louise Boyd, food writers Sarah Wadsworth and Martin Bosley, Scottish born/Wellington based surrealist artist Liam Barr, Poets Marcel Currin, Libby Paulin and Sue Wootton, Journalist Laura Williamson, Jeweller Sophie Lewis-Smith, Dutch born/Wellington based documentary photographer of Maori culture, Ans Westra and Natural History Filmmaking and Science Communication Masters student, Carla Braun-Elwert.
100% NZ-made and printed on FSC-certified stock using biodegradable inks, The Kiwi Diary combines a socially aware and eco-responsible ethos with street savvy. Woven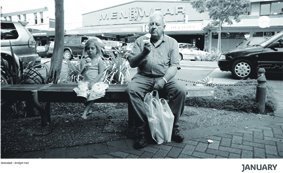 into this year's edition are a multitude of engaging stories including articles about Aotearoa's Kermadecs region, the comeback of knitting and cloth nappies, the iconic Flat White, New Zealand's native moths, creating a skink friendly garden and the joys of spring skiing.
With the support of sponsors including PEW Environment Group, Commonsense Organics, Felt, Celcius Coffee, Ikoiko and Starfish, The Kiwi Diary is staunchly New Zealand-made and produced, making it one of the few publications that continue to print in Aotearoa. The sponsors of each year's diary are carefully selected, and always have an interesting story to tell which is shared in the pages of the diary.  For those considering supporting the 2013 Kiwi Diary, expressions of interest are welcome via annabel@thekiwidiary.co.nz .
Keen contributors to The Kiwi Diary 2013 should submit their images, words and ideas to kiaora@thekiwidiary.co.nz.
For your copy of The Kiwi Diary 2012, click here for a full list of national and on-line stockists. This is the perfect gift for homesick Kiwis on their OE or locals who love keeping a finger on the pulse of Aotearoa's creative and green scenes.
See www.thekiwidiary.co.nz for further information about The Kiwi Diary, along with a full list of stockists.
Happyzine has two copies of the Kiwi Diary 2012 to give away to members of Club Happyzine.  Join up today!
GD Star Rating
loading...
GD Star Rating
loading...
Tags: kiwi diary