Home » Headline
For the love of my brother – David Visser rides from Bluff to Cape Reinga to raise funds for his big bro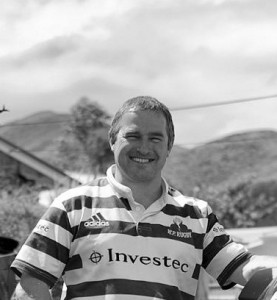 For the love of my Brother, Wilf
My name is David Visser, and I'm from Tawa, Wellington, New Zealand. My elder brother Wilf is living with a rare and fatal motor neurone disease, amyotrophic lateral sclerosis (ALS).  In his earlier years, Wilf was a top athlete in both cycling and running, representing South Africa twice at the Commonwealth games. At his peak, he completed the half marathon in 1hr 7min. He started showing symptoms of ALS in 2008. He is only 51 years old, with a wife and a young son, who are doing their best to keep things together in the face of this terrible disease.
My elder brother Wilf and I are very close. He's my brother in the truest sense of the word. As I think about the losses he suffers on so many levels, like missing out on teaching his son great running and cycling techniques, or playing games with his family and friends, I feel a deep sense of grief. My heart breaks as I pour myself out before God but my brother is so strong. He has always been inspiring, but since his diagnosis, he has turned to God, who's been knocking at his door for a long time. Now my brother is more inspirational than ever, a living testament to overcoming tragedy. He inspires everyone he meets. What more can I say, he's so cool, he's my brother.
What is amyotrophic lateral sclerosis [ALS]?
ALS is a disease of the nerve cells in the brain and spinal cord that control voluntary muscle movement. In ALS patients, nerve cells waste away and die, and can no longer send messages to muscles. This leads to muscle weakening, twitching, and eventually an inability to move the arms, legs and body. The condition slowly worsens until, when the muscles in the chest area stop working, it becomes hard or impossible to breathe on one's own. ALS affects five out of every 100,000 people worldwide and in New Zealand, there are about 300 ALS sufferers. There is more information on the Motor Neurone Disease (MND) Association of New Zealand's website, http://mnda.org.nz.
The fundraising project:
I'm blessed to be able-bodied, and feel compelled to do something to raise awareness and support for those suffering this terrible disease here in New Zealand, and in the process, help my brother too. He can no longer work, has a young family, and has had to make several modifications to his home to accommodate his ever-increasing disability.
I'm passionate about riding my motorcycle, so I'm planning to ride the length of New Zealand, from Bluff to Cape Reinga, in three days, to raise both money in support of my brother, his family and the Motor Neurone Disease Association of New Zealand. All funds raised goes directly to my Brother and his family (65%) and to MND NZ (30%) who have shown strong support of this idea. The remaining 5% goes to the http://www.givealittle.co.nz/cause/fortheloveofmyBrotherWilf website administration.
I have a fundamental belief that we can make a difference in the world.
I have planned the ride for the 4th, 5th and 6th Feb 2012 (Waitangi Weekend).
Friday 14 October 2011
Saturday 4th, Bluff to Picton.
Sunday 5th, Wellington to Tauranga.
Sunday 6th, Tauranga to Cape Reinga.
To ensure the full distance is being covered on my ride, I'll ask the local police to officially see me off in Bluff and again in Picton, with the same when leaving Wellington and arriving in Cape Reinga.
How to donate to my Project,
1. Online using this link http://www.givealittle.co.nz/cause/fortheloveofmyBrotherWilf
2. By direct credit to the following dedicated Bank account for this project
National Bank
06-0565-0829326-00
3. By cheque made out to: Motor Neurone Disease Association
NOTE: on the back of the Cheque the project name "for the love of my brother, Wilf'
• Mail the cheque to
o Motor Neurone Disease Association
o PO Box 2176
o Wellington
I'd be happy to take any questions
Regards
David Visser
david.visser@paradise.net.nz
0297724545
GD Star Rating
loading...
GD Star Rating
loading...
Tags: Charity