Home » Uncategorized
How 'Bout a Tour of New Zealand? With Hikurangi.
Submitted by Charlotte on February 3, 2012 – 5:26 pm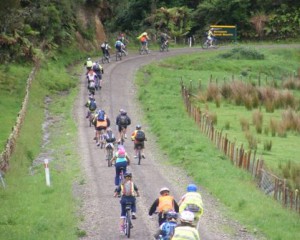 By the team at the Hikurangi Foundation
Mark your calendars, 14-21 April 2012 the inaugural Tour of New Zealand cycle ride hits the road.
The Basics
The Tour of New Zealand is an 8-day, epic road ride taking in km after km of iconic NZ scenery (and keeping to the quieter roads where possible), described by organisers as, "the most dramatic, accessible multi-day cycling stage race ever to hit New Zealand. It's an 8-day amateur event designed to celebrate everything good about cycling, scenery, competition and community, played out on some of the best roads the country has to offer."
You choose to cycle either the North or the South Island, 716 km Cape Reinga to Wellington, or 777km Bluff to Picton. Then on day 8, riders from both islands will converge for a final showdown round the Beehive.
And, it's not just about soaking up the scenery while feeling the wind in your hair…
When you fill in your online entry form, you'll have the chance to tick a box to say that you want to ride to raise funds for the Hikurangi Foundation. Tick the box!!  Why?  Well…
Turn your ride into a Hikurangi fundraiser and 100% of the money you raise will go directly back to enabling better and safer cycling in New Zealand, supporting community-led cycling projects and innovative transport solutions.
We're looking to get as many bikes on the Tour as possible, so there are many options for how to tackle the ride.  You can enter by yourself or as a team with anywhere from 3 to 70 people!
Team Rules
Teams must have between 3 and 5 cyclists on the road at all times.  Whether those are the same people for the full Tour, or you ride it as a relay, is up to you.  You can change riders daily, halfway through the race, or even swap riders partway through a day. For example, you could enter a 3, 4 or 5 person team and ride every km together, or enter a team of 15 and take it in turns.  The possibilities are endless.
You need not be Lance Armstrong to enter (though if he calls we're not turning him down).  The Tour can be ridden as a race, competing for the daily stage winner prizes, or you can take it on for the pure challenge of crossing the finish line, not to mention the pure joy of seeing the gorgeous scenery New Zealand is so famous for, at a pace that allows you to take it all in, and looking pretty fit as a result!
Put your pedal power into work to support community cycling projects and smarter mobility
The Tour of NZ isn't just another cycle race; organiser Peter Yarrell wanted to put together an event that showcases New Zealand's incredible cycle touring potential, AND puts all its pedal power to good use. Hikurangi and Tour of NZ are partnering together, so that the Tour isn't just about one great bike ride, but being a fundraising event means that it's also about supporting community cycling projects and community-led innovative transport solutions to create lasting effects for years to come.
When you fill in your online entry form, you'll be asked to select which charity that you want to ride to raise funds for.  This is your chance to select the Hikurangi Foundation. Tick the box!
Sign Me Up!
This is the first year of the Tour of New Zealand, which you have to admit is a little bit special.  Make sure you can say, "I was there when…"
Enter ASAP at www.tourofnewzealand.co.nz.  Signup now! All early entries get a bottle of wine (not guaranteed to help your training).
Entering early also gives you plenty of time to sort out your accommodation and transport – and of course find a good support crew driver or two.  Please let us know if you have entered or are considering it but would like some advice.  The more the merrier!  We have some savvy cyclist friends who have agreed to help us help you – with training and nutrition guides, and be on call for general questions.  Hikurangi will be entering one team on each island so we'd love it if you rode with us!
The Nitty Gritty
Individual entry is $500. Team entry is $400 per bike on the road. E.g team of 3 equals $1200, team of 4 equals $1600, team of 8 with 4 riders on the road at any one time also equals $1600. Tight budget? Enter a bigger team and split the cost between more people! Plus, there is a special reduced entry fee of $300 per bike on the road for student teams.
See full details, including race maps, and sign up online at www.tourofnewzealand.co.nz and select Hikurangi as your preferred charity! You'll be supporting projects that will help to spark a positive cultural shift for cycling in New Zealand.
Download the pdf of this information here.
GD Star Rating
loading...
GD Star Rating
loading...
Tags: hikurangi