Home » Food
Book Review: Now is the Season by Laura Faire
Submitted by Charlotte on February 6, 2012 – 1:32 pm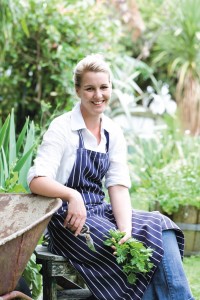 Book review by Charlotte Squire

Now is the Season by Laura Faire
"Seasonal food is that simple: food that is grown and consumed within its natural season, sharing its flavour if the soil is good and the methods of care are organic and loving. It's not rocket science – just a skill that got forgotten with the wonders of chemicals, airfreight and the demands of a consumerist society."
Summer, Autumn, Winter, Spring. Auckland based Laura Faire's book 'Now is the Season' follows the changes of the New Zealand year with recipes using ingredients straight from her garden. Laura Faire is a trained chef and an enthusiastic gardener and this passion shines through in her recipes.
No cook book is truly going to make it with out the scrumptious images to get the mouth juices flowing and the creativity prickling. Award winning photographer Keiran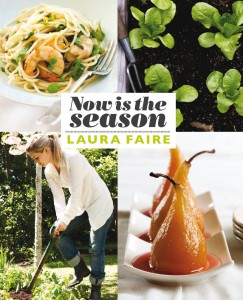 Scott offers some great photos. We're talking rustic, real, pictures of dirty hands, old gardening tools and organically prepared kai.
Laura's an astute writer and as an organic gardener she shares the seasonal recipes of her neighbourhood as a true story teller. She offers such simple, often old fashioned recipes such as 'Blueberry Vanilla Tennis Cake', 'Lemon Curd' and 'Handmade Herb Mayonnaise'.
She combines these lovely recipes with a more contemporary style of cuisine, using recipes such as 'Carrot, Cardamom and Carrot Cake', 'Black Molasses and Grapefruit Duck Breasts', and 'Gnocchi with Early Basil and Bacon'.
We do of course need to do a fly-by of the deserts, we have 'Strawberry and Maple Syrup Icecream', 'Dark Chocolate and Cherry Tart', 'Lemon Curd', 'Poached Tamarillos in Vanilla Custard' and 'Vanilla Marscarpone Custard'.
Flicking open the book to where ever it would like to take me, I'm met with 'Pea and Parsley Soup with Scallops', it looks divine, the butter fried scallops are sitting on a bright green soup that looks like it's bursting with goodness. And below the recipe Laura offers a spot of advice: 'PEAS: Keep planting peas from spring all through summer to ensure a good supply. Pick regularly as this encourages the plants to keep producing.".
I randomly open the book again to meet the unforgettable 'Blueberry Vanilla Tennis Cake'. This scrumptious cake requires half a pound of butter and is designed to feed large crowds. We're told it serves a modest sixteen (which leads me to consider it as a great cake for band-practice). Below the recipe I read "BLUEBERRIES: Blueberries like and acidic soil, so I add pine needles as mulch. This does lead to sudden pulling over and leaping out of the car when I see pine trees, but a happy adventure is always had …"
In fact she offers some lovely gardening advice, for example "Plant mustard in spring and harvest for this dish while still young.  It is a fast germinator so can be grown on and replenished quickly.  Dig what you don't use back in to the soil to return the nitrogen to the soil".
I love her words of spring: "Spring is a tease: it has come-hither eyes, laden with promise.  A traveler in a desert, the cook is beckoned with fresh green shoots but little substence.  Spring is lean and filled with suggestion: a well-prepared store cupboard nearly empty: empty seed beds nearly full.  Spring is hope and waiting."
Yes, Laura writes about her food as a poet, with personality and wisdom. I'm pleased to have this book in my collection and I recommend you check it out.
Charlotte Squire
New Holland Publishers
RRP: $45.00
GD Star Rating
loading...
GD Star Rating
loading...
Book Review: Now is the Season by Laura Faire

,