Home » Community
1000 free fruit trees for Auckland, free and fresh fruit for communities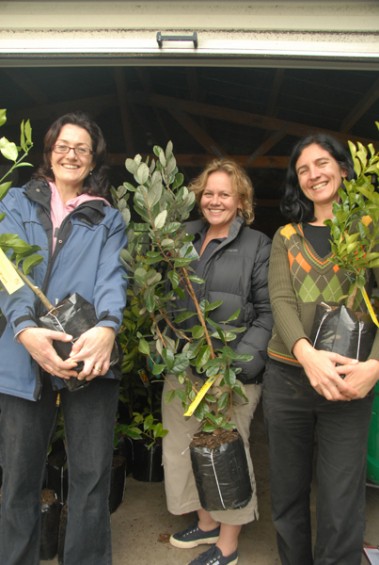 Press Release: Mount Eden Village People
1000 free fruit trees for Auckland, free and fresh fruit for communities
The 'Fruit Trees for Auckland 1 ' group continues to drive awareness for sustainable practises throughout Auckland by providing 1000 free fruit trees for schools, early childhood centres and the wider Auckland community in 2012.
In 2011 'Fruit Trees for Auckland' introduced a community funded "100 Citrus in Schools" tree planting project for Auckland schools and early childhood centres. This project was developed to benefit children by helping them gain access to fresh, locally grown fruit as well as developing a greater understanding of the importance of eating fresh fruit and locally sourced produce.
"Our citrus for schools project last year was a huge success and the schools and kindergartens involved in it share the same vision of free and healthy food in our city," says Judith Holtebrinck, co-founder of the Mount Eden Village People.
As a result of the success of the 2011 project the goal now is to plant 1000 trees throughout Auckland. To get involved all people need to do is register their interest on the Fruit Trees for Auckland website – www.fruittrees.org.nz. On the site you can nominate
a school or early childhood centre to receive fruit trees, as well as identify grass verges outside your home or local parks that you would like to see planted with fruit trees.
Schools and early childhood centres registered on the 'Fruit Trees for Auckland' website in 2012 will each receive up to 5 trees as well as an information pack on how to plant and care for the trees using organic methods and the benefits of eating citrus fruit. The total number of fruit trees available will depend on the amount of funding and donations received by the 31st of May 2012. If demand for fruit trees exceeds what is available then trees will be allocated based on the order in which requests for fruit trees have been received i.e. first come, first served.
In the long-term the 'Fruit Trees for Auckland' group is looking for local sponsorship and donations at a corporate level that can assist in making this project an on-going yearly event.
To find out more about the 'Fruit Trees for Auckland' "Citrus in Schools project" and to donate or register for a free fruit tree please visit:
www.fruittrees.org.nz
or join us on FaceBook group: Fruit trees for Auckland
www.mountedenvillagepeople.co.nz,
FaceBook MountEden VillagePeople
For further information, please contact Judith Holtebrinck at
Judith@mountedenvillagepeople.co.nz
'Fruit Trees for Auckland' is a subgroup of the Mt Eden Transition Town group "The Mount Eden
Village People. In 2008 the Mt Eden Village People successfully initiated the funding of 131 fruit
trees by the Eden/Albert community board which were planted by Auckland Council in 2010 on
council land and in targeted residential areas of the Eden/Albert/Epsom catchment.
GD Star Rating
loading...
GD Star Rating
loading...