Home » Blog
Exploratory January! Grace's tale of the people who did one new thing per day, for 31 days.
Submitted by Charlotte on February 25, 2012 – 11:51 am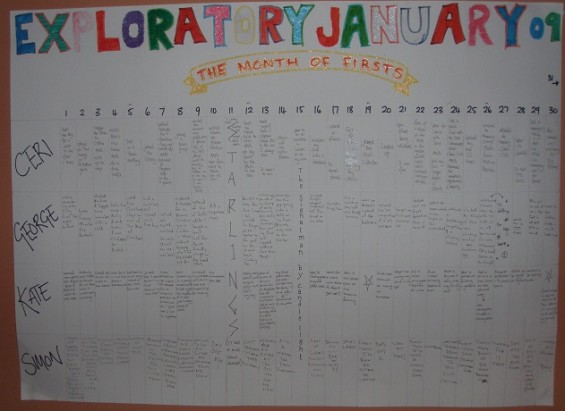 Grace Deathridge writes for Happyzine as an Intern, and lives in the UK.  In this article she introduces us to a pledge that her friends made, in an attempt to brighton up the days of their dark, cold mid-winter January.
As we approach the end of February and edge towards Spring equinox on this side of the world, I feel inspired to write about what a group of my friends do to keep themselves happy through the tail-end of winter. When I say keep them happy, I don't want to suggest these friends of mine are 'whinging poms' (they are pretty gregarious people and generally in love with life) it's just that after the festive mid-winter period in the UK, things can get a bit rough.
For those of you reading this that haven't experienced a January over here, some people experience, as a friend Ali semi-jokingly described it – 'a depressing time of nothingness'. I think what can make January hard for people in North Europe is the extreme contrast with the previous month of festivities, when the Xmas lights are on, the smell of mulled wine and sound of good cheer are all around. Then in January, people reluctantly go back to work after the holidays, usually feeling a little larger and perhaps in need of a detox after all that festive over-consumption.
The previous month's spending frenzy has left them short of cash and after the fairy lights have been taken down, they find the nights are still long and dark and often enough the day's skies are relentlessly grey with a thick blanket of clouds. Paints quite a bleak picture doesn't it?!
So what my friends have come up with, to beat the winter blues and inject some freshness into their mid-winter lives is this :– 'Exploratory January!'. This is the simple idea they came up with collectively (they are house-mates in their mid to late thirties) one December night in a Bristol pub. They were having a great December, enjoying all the festivities of the season and resolved that they didn't want to submit to the usual January dreariness. They wanted to make it more interesting. They decided then and there that for every day in January they would set themselves the task of doing something they hadn't done before – an exploratory activity for each day of the calendar month.
This year these intrepid house-mates have just finished their second 'Exploratory January' after the successful first year (ok, they had a two year gap – we won't give them a hard time!). They find doing this shrugs off lethargy in what can otherwise be a mid-winter slump and removes the inclination to stay in during the evenings all the time. This is not to say they go out every night in the month, because an exploratory January activity for them can be something as simple as cooking a meal they haven't cooked before or changing a usual habit.
Physical activities explored have ranged from walking home from work a different way, to trying out a 'swing' (lindy-hop) dance class. They also found as January progressed that they were engaging in behavioural activities they might not have done otherwise.
Simon, a theatre box-office assistant and writer, resolved to remain upbeat all day at work. No matter what kind of annoying customers he encountered, he would try to remain positive and see their side of things. Simon found this a beneficial experience but said he was only tested mildly! Kate, a nurse in a busy hospital, decided that she would be even more pro-active at work and in the process she took on a challenging work situation she might have avoided normally. These 'activities' not only livened up their day but also were an opportunity for them to raise their game.
For my friends Exploratory January is not only a hibernation-antidote, but is also a shake-up of their habits and routines. This has taken them to new places physically (sometimes just trying out new cafe's/pubs) and can also provide psychological or emotional insight (one day Kate went to work purposefully leaving her mobile phone at home – 'I can't believe how anxious I felt').
It also means they finally get round to things they've been meaning to do for a while, often with lasting effect. In their first Exploratory January Kate did her first indoor climb at a climbing centre and is still going regularly. George went to his first yoga class and is still yoga-ing.
The house-mates have experimented with numerous new activities in their Exploratory Januarys, some of these have included attending cheese clubs, book clubs, fruit clubs (!), Capoeira classes, buying their first classical cd, using a microwave and running up Europe's steepest residential hill (twice!).
What I really love about my friends' idea is the spirit of play that seemed to emerge from the process. Sometimes if they hadn't planned an activity for the day, this would lead to a kind of forced spontaneity as they tried quickly to come up with something new. This once led to Kate taking a running jump over a park bench when she was out on her usual run (she waited until no one was around!).
As with all forms of play or improvising, sometimes the house-mates found their chosen activity was not successful or immediately beneficial. But these more unsuccessful activities often made them realise the sense behind certain routines and habits that they held (for example, why it was better for them not to eat 'just cheese for breakfast'!)
A friend remarked that what they are doing is a good practise for starting a new year. Instead of the standard and usually unsuccessful new year's resolutions, where the emphasis is on stopping something – my friends' have placed the emphasis on doing stuff and taking positive things up.
Clearly, having an Exploratory January (or for those of you down under – Exploratory July?) isn't for everyone, either practically or in taste, but I do think there is something valuable for us all in the notion behind it – the idea of experimenting and playing with the time we are given on this planet. Especially if our lives are beginning to seem a little humdrum or routine. It is a reminder that we can take small steps or make tiny changes to enliven us – and if you are embracing the spirit of play, it doesn't really matter what month it is!
Grace Deathridge
GD Star Rating
loading...
GD Star Rating
loading...
Exploratory January! Grace's tale of the people who did one new thing per day, for 31 days.

,
Tags: Exploratory January