Home » Blog
Book review: The Great Kiwi Motorhome Guide
Submitted by Charlotte on March 4, 2012 – 8:40 pm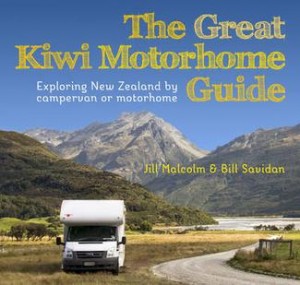 The Great Kiwi Motorhome Guide – Exploring New Zealand by Campervan or Motorhome - By Jill Malcolm and Bill Savidon
Review by Charlotte Squire
Ok, this book isn't exactly 'green', and I usually review books and other products with a sustainable aspect to them, but I must confess to dreaming of traveling new Zealand in a motorhome (Ok, how about if I imagine I'm traveling in a motorhome powered by chip-fat, or solar-power?).
For me, reading this book filled me with the excitement of planning a road-trip, a holiday where I relax and take in the sights of our beautiful Aotearoa (I must add here that holidays and time out are very nessersary for us change-makers and we really must be careful to take extra good care of ourselves so that we can enjoy an emotionally as well as environmentally sustainable life-style).
Ok, rant over, on with the book review.
I remember spending some time in the U.K. nearly half a life time ago and it was there that I talked with other travelers about my home country and realised how little I knew about New Zealand.  I mean, there are some areas such as the top of the South Island, and the West Coast that I've thoroughly explored, but there are others – such as Fiordland and Stewart Island and the Caitlins – that I've still to have a good look around.  Sometimes I dream of doing this in a nice lush motorhome.
So this book, that I couldn't resist checking out, is all about the ins and outs of motorhoming in New Zealand.  The authors (a husband/wife duo) tell us about chosing a motorhome (renting or buying), what to pack, and the regulations you need to be aware of.  They also go into detail about how to use a dump station, making a quick exit, driving coutesies and culture, plus there's a good chunk of information about motor-home friendly campsites all over New Zealand – including all the useful details such as addresses, cost, access and what to expect when you're there.
As a previous van owner myself who would occasionally enjoy parking up somewhere off the beaten track, I think this book would be useful for anyone on a meadner around Aotearoa, be they camping or driving a vehicle they're able to sleep in.  I enjoyed flicking through and looking at all the beautiful places I can theorectically visit, in my theoretical camper-van.
Now to dream up my visits to Fiordland and Stewart Island and the Caitlins!
The Great Kiwi Motorhome Guide
Author: Jill Malcolm and Bill Savidon
RRP: $45.00
Released: September 2011
Imprint: Random House NZ
by Charlotte Squire
GD Star Rating
loading...
GD Star Rating
loading...
Tags: book review