Home » Community
Prison Art Auction 'Ruwhenua Whakaaro – Thoughts of the Earthquake'
Submitted by Charlotte on March 7, 2012 – 2:45 pm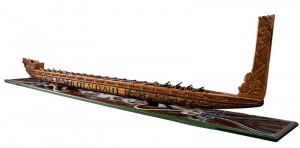 Prisoners at the three Canterbury Prisons have produced over 150 art pieces to be auctioned on Saturday 24 March 2012, Spreydon Baptist Church 244 Lyttleton St,  5.30-8.30p.m.  All proceeds will be going to the Christchurch Community related Earthquake Relief Fund.
The Department has facilitated this initiative which has been driven by a large group of Prisoners who want to make a tangible contribution to the Christchurch Community. Naturally their capacity to contribute is limited due to their circumstances and utilisation of their artistic talents is a positive way to realise their goal to help others who have suffered.
The completed artworks include acrylic paintings on canvas and larger carved/painted pieces on wood, sculptures in clay and paper, pencil drawings, and traditional and contemporary carvings that have been carved from wood donated from Christchurch's red zone.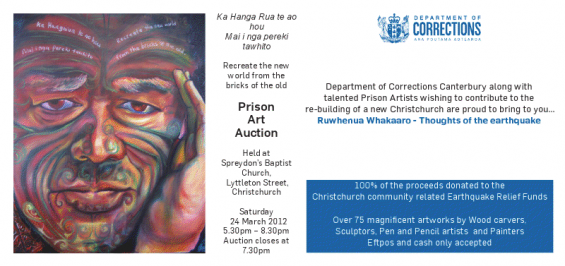 Could you please take the time to send on to work colleagues, friends, family or people you feel may be interested. There are a number of amazing works of art that have been donated by prisoners, which are available for purchase on the night, some of these are fitting and relevant for the business environment and we are hoping that sales generate a good contribution for the relief fund.
GD Star Rating
loading...
GD Star Rating
loading...
Tags: art