Home » Club Happyzine
Living Nature's ultra rich body cream Club Happyzine Giveaway
Submitted by Charlotte on March 8, 2012 – 4:34 pm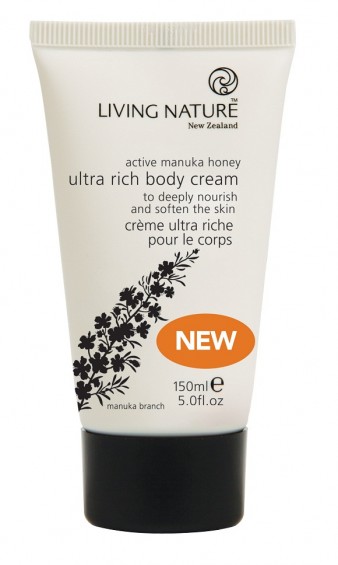 Living Nature have a new product, it's rather lavishly called 'Active manuka honey ultra rich body cream ' and it's been developed to 'deeply nourish and soften the skin'.  It is, I must say, rather lush.
My 150 ml tube arrived at the end of a hectic morning with the kids at Playcentre, I was in my way in the door, readying myself for cuppa, a catch up with a friend, and some raw choclate (which is another story).  And there it was in a courier package, waiting expectantly for me on my doorstep.  All full of promise, and Manuka honey.
I loved inhaling the rich, Manuka Honey, vanilla, orange scent of this body cream, and I felt so lush rubbing it on my arms that I had to insist all people near-by sniffed my arms too.  It's one of those creams a girl needs on hand for those moments of pampering that we're all entitled too (we totally are, just in case you didn't know).
This is what Living Nature have to say about it:
"A nutrient-rich cream with Active Manuka Honey for its humectant properties, Cupuacu and Murumuru butters to deeply nourish and moisturise, and natural oils to soothe and condition the skin. The ultimate all over body treat. To use: Massage a generous amount onto clean skin paying special attention to dry areas such as elbows and heels. Ideal for after-sun nourishment. For all skin types."
Did I mention that this body cream smells AMAZING?
Living Nature have a great reputation as producers of all natural skin products:
"We use New Zealand's unique native botanicals with their ability to heal, purify, nourish and protect your skin. Just some of our remarkably bioactive ingredients include Harakeke Flax Gel to soothe and hydrate, Active Manuka Honey to nourish and heal, and Kumerahou to cleanse without breaking the skin's moisture barrier."
Living Nature products are certified 100% Natural by German-based BDIH.
Charlotte Squire
Retail price: $49.00
We have two 150 ml Active manuka honey ultra rich body creams to give away to members of Club Happyzine, we'll announce the winners in the Monday ezine: 19th March.
GD Star Rating
loading...
GD Star Rating
loading...
Tags: club happyzine