Home » Arts
Letting Space: Get Productive!
Submitted by Charlotte on March 9, 2012 – 9:06 am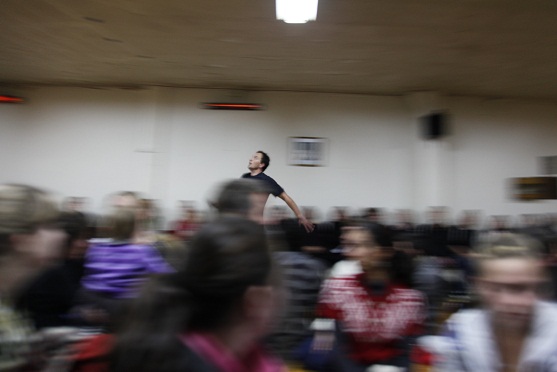 Letting Space are inviting people to participate in a major public art project in the streets and public spaces of Wellington over the week Monday 12 May to Friday 16 March.
 Productive Bodies is a major community performance art project during the New Zealand International Arts Festival 2012. It is performed in various locations between 10am and 3pm Monday 12 March to Friday 16 Ma. Using group movement and humour Productive Bodies examines the usefulness and workfulness of individuals and groups in society. It explores what it means to be productive, equating community service with civil service, acknowledging the significant redundancies occuring in New Zealand at present.
Workshops are being held in the Reading Room at City Gallery Wellington 10am-12noon every day. People who are unemployed, artists, between jobs, or not in full time employment are welcome to participate at any time in these during the week. Absolutely no training is required. All members of the public are welcome to observe the work as a piece of 'social sculpture', housed within The Obstinate Object exhibition at City Gallery. The performers then leave the gallery as a group at 1pm performing throughout the city until 3pm (12.30pm Wednesday). Those wishing to follow the group should be in Civic Square at 1pm or join Letting Space's Twitter feed for updates on the day. Recordings of the performance will be uploaded over the week to Letting Space's Facebook group, which you are also welcome to join.
As part of the project people are also being invited to
Being Productive
a free talk at the Festival Club on the Wellington Waterfront 1pm Wednesday 14 March. The talk features artist Mark Harvey, esteemed academic on new ways of thinking about economics Marilyn Waring and economist Susan Guthrie, and is chaired by co-Director of Letting Space Sophie Jerram. For more information got to
www.lettingspace.org.nz/productive-bodies
More about the work 
Previous Letting Space projects have dealt with commercial property vacancies as an issue for Wellington City.Productive Bodies speaks directly to an associated issue that is even more important: the well-being of our citizens.
How can people, outside of their work environment and expectations of a labour contribution, strengthen their sense of community and engagement with their city?
In a time of recession and civil service redundancies the work engages a community of recently unemployed, or about to be unemployed people. The work will encourage a sense of positive social wellbeing and ownership of public space.
Over 2500 civil servants have lost jobs in Wellington in the past three years. The pressure to be a happy, productive taxpayer can be large when you have been made redundant, or unemployed for sometime. Or as an artist with little hope of regular income. Meanwhile in the workplace 'wellbeing workshops' have become an important component of human resource management. How we value productivity continues to be measured by what we contribute to the market.
Mark Harvey and Letting Space will work with the 'unemployed' to encourage them to be physically active and develop a movement vocabulary of "absurd productiveness". These worker-like cells of people will then be let loose in Wellington's streets. The performances will explore public space in the city, and Harvey will explore notions of idiocy to develop participants' own sense of 'productive worklessness' with endurance and duration exercises. The work can be considered a form of 'social sculpture', exploring how art can operate today in a public setting.
As well as working with the unemployed Harvey will learn about the change in confidence and productivity that the 'threshold unemployed' (or those that fear redundancy) face. By working with these usually bright, stable loyal taxpayers, Harvey explores the arbitrariness of those that have a job for now and those that don't.
Productive Bodies is being produced with City Gallery Wellington as an associate partner, in association with a survey of contemporary New Zealand sculpture, The Obstinate Object. The project explores notions of 'social sculpture' and the performance body as contemporary figurative art within public space.  
The work is part of a wider series Letting Space has commenced nationally called Community Service, where leading artists are commissioned to work with communities to enable social change. The first work Free of Charge by Julian Priest premiered at Splore 2012, and two other projects will shortly be announced for Erupt Festival in Taupo in May. To keep up to date with details people can email sophiejerramandmarkamery@gmail.com. Productive Bodies is funded by Creative New Zealand and Wellington City Council.
Mark Harvey has worked extensively in New Zealand and internationally creating performance projects that test the boundary between dance and performance art. Harvey's performance practices are conceptually driven and test out notions of endurance with constructions of idiocy, seriousness and deadpan humour, and draw from his visual arts and contemporary dance influences (he trained in contemporary dance).
Some of the galleries and live art events he has presented work in include: Enjoy Public Art Gallery, Wellington, 2003; the Govett Brewster Art Gallery, Taranaki 2006; The Physics Room, Christchurch, 2002 and 2006; the Parnu International Video and Film Festival: Pain in the Class, Estonia 2006; Camp X, Denmark 2008; PSi 15, Croatia 2009; and Living Room in collaboration with Isobel Dryburgh, Auckland, 2010. He has curated a range of performance art events. He lectures at the National Institute of Creative Arts and Industries at The University of Auckland and has just completed a PhD at the School of Art and Design at AUT University in performance.
GD Star Rating
loading...
GD Star Rating
loading...
Tags: aets, letting space