Home » Green technology
Help kick-start the New Zealand White Roofs project campaign!
Submitted by Charlotte on March 12, 2012 – 3:37 pm

Ian Montanjees
Now is the time! We are putting together an 18 month campaign to promote white roofs to businesses, the public, councils and government.
Would you like to help kick-start the New Zealand White Roofs program?!
Stage 1. Crowd-funding the Setting-up via many people at grass roots putting in small amounts to raise the $5000.
To help kick-start this campaign, we invite you to help spread the message in your networks, facebook, and friends and/or make a pledge.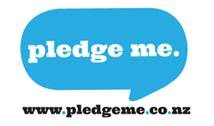 The crowd-funding is coordinated through the PledgeMe website.
Visit our project page there by clicking on the PledgeMe image -
Stage 2. If the target amount of funding is pledged by the deadline, only then will the money will be accepted and Ian Montanjees can go full time on the Setting-up period of 8-10 weeks directly approaching businesses, to generate sufficient support for the 18 months and designing the campaign.
Stage 3. If enough businesses are interested by the end of the Setting-up, needing perhaps 120 offering roughly an average of around $500 each, only then will these funding offers be accepted and the 18 month campaign begins!
A few well-known businesses in a trial sampling have already said they are interested.
Help us kick-start this program, through spreading the word and/or making a pledge!
Every little bit makes a difference.
Many thanks
Ian Montangees
GD Star Rating
loading...
GD Star Rating
loading...
Tags: green design, white roofs