Home » Community
Wellington CANSURVIVE Dragon-boat team continue to thrive both on and off the water
Submitted by Charlotte on March 23, 2012 – 7:37 pm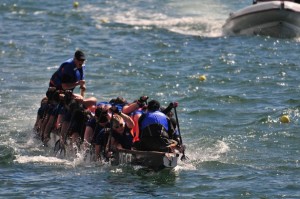 Wellington CANSURVIVE Dragon-boat Team
Joyce Elwood-Smith
Team banners flutter in the warm light breeze, it's a beautiful sunny Wellington day and on the harbour dragon-boaters are out in force paddling for dear life putting their all into reaching the finishing line at the end of the designated 30 metres. The waterfront is abuzz 5,000 spectators are there to cheer them on. There are teams from all around New Zealand including several from Australia.
Corporate Teams in bright colourful uniforms settle themselves into their boats at the end of the Frank Kitts lagoon waiting for the signal to head to the starting line out front of Queen's wharf.  Other teams are preparing themselves with a last minute prep talk or warming up. Some teams are taking a break in their tents recovering from the race just finished or are having a barbecue lunch and enjoying treats supplied by supporters. The Dragon-boat festival is in full swing. A tent city has sprung up, there are stalls and there is music.
At 4.20pm the Wellington CANSURVIVE team dressed in smart blue and orange line up for their fourth and last race of the day. It is exciting and very close but CANSURVIVE manage to grab third place and hang onto it to get that bronze medal. Not bad for a group of women of all ages, (ranging from ages 42 – 70) all breast cancer survivors.
This Saturday they will be competing in Auckland and on Saturday 31st March they will compete at the National Regatta on Lake Hood in Ashburton where they hope to get silver if not gold to complete the set.
Even Mondays Southerly storm didn't stop these gutsy ladies training on the wild wind swept harbour and they were back out on the water again in Wednesday night's fog.
Wellington CANSURVIVE Breast Cancer survivors, spend a lot of time and effort raising money to help cover uniforms, training fees and travel costs. You may remember their big effort at the end of last year to launch their "Calendar Girls" style calendar, a brave effort to raise money for their own dragon–boat so they can train all through the year. There are still plenty of these beautiful and tasteful calendars for sale, they are fun and poignant a celebration of the beauty of the human body,
mind and soul.
The effort these women put into producing this calendar was tremendous. If you do not have one you are missing out on the most Inspirational Calendar of 2012.
You can purchase "A Celebration of Women" Calendar 2012 from Iona.Elwoodsmith@gmail.com or online at WWW.gregoryyoungphotography.com
Joyce Elwood-Smith 23-3-12
GD Star Rating
loading...
GD Star Rating
loading...
Tags: dragon boat