Home » Club Happyzine
Fairtrade Organic Kokako – Rangatira and Aotea Coffee and Purely Intense Drinking Chocolate – Feels good on all levels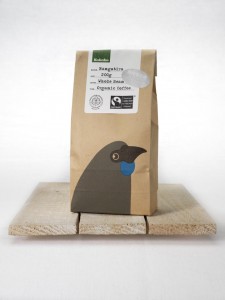 Ok I've said it once and I'll say it again, I'm a sucker for Fairtrade or certified organic foods and beverages.  It just seems to make them taste nicer.  Yes, it's an area where I can get a bit choosy, perhaps snobbish.   But it's not really snobbery is it?  It's part of the collective need, a deep yearning, that many of us feel for a far more sustainable and just world.  I know you feel it, because you're reading Happyzine; as for me, it's part of my make-up.  It feeds into every choice I make.
As I 'fuel up' I often think of the people who planted, grew, harvested and processed the products I'm enjoying.  And in the case of Kokako coffees and hot chocolate things couldn't get much better really.  You see, not only are these drinks certified organic by our wonderful Bio-Gro New Zealand, they're also certified Fairtrade.  If you're going to indulge in coffee or chocolate, which generally need to be grown in hotter climates, keep an eye out for the gorgeous Kokako branding because when you buy it, you're supporting some seriously good work.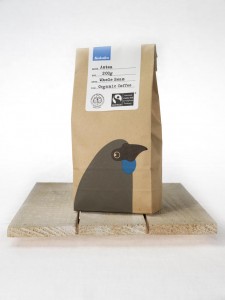 Kokako's Purely Intense Drinking Chocolate is vegan friendly (contains no dairy) and safe for Coeliacs (no gluten in it either).  All it contains is Fairtrade Organic cocoa and Fairtrade Organic golden cane sugar.  That's it.  No fillers, emulsifiers or preservatives.  And get this, it also comes in the world's first 100% recyclable and compostable drinking packaging.  Yep.  These guys have got the whole package issue well and truely sussed.
Now onto the coffee!  One of our readers has already tried to 'shotgun' these, as I couldn't help but flaunt the Kokako website on our facebook page!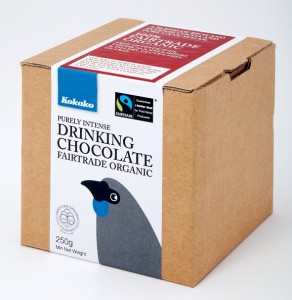 The Aotea Blend is Kokako's original House Blend.  It's batch roasted using PNG, Mexican and Sumatran sourced coffee beans.  It has a floral and fruity taste with a medium acidity.  And it is of course both Certified Fairtrade and Organic.
The Rangatira Blend is an award winning batch blend using certified organic Mexican and Columbian sourced beans. It won a silver award in the 2009 Coffee Awards for 'Best Ethically Roasted Coffee'.  It has a complex aroma and a robust flavour.
I'm lucky enough to be well stocked with these gorgeous coffees and the yummy hot chocolate.  The question is, do I really have to share them?  Of course I do, if only to start up a good conversation about Fairtrade Organics (which seems to be the new, sexy way forward in terms of certification).
Just in case all this is making you thirsty, all Club Happyzine members will go in the draw to win one of two packages of the Aotea Blend, The Rangatira Blend and the Purely Intense Drinking Chocolate.  So if you haven't joined up, do it today!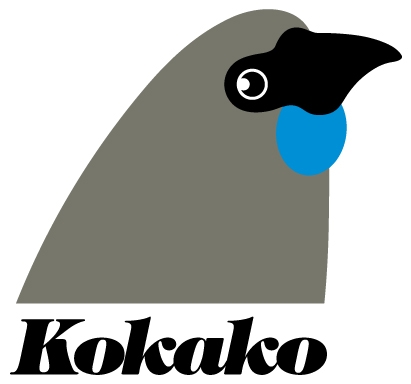 GD Star Rating
loading...
GD Star Rating
loading...
Tags: advertising, green business