Home » Food
Cacao "food of the Gods" + Raw easter egg recipe. By raw foodie Sarah Lea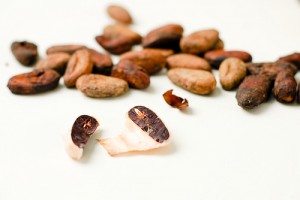 Sarah Lea
I've found my secret key to the universe.  Cacao. The food of the Gods and the food of Sarah Lea. Not only does it keep my mind focused (usually on eating more cacao), clear headed and bounding with energy, but it keeps me on the raw path. I am truly ecstatic on so many levels that it works for our bodies and minds on so many levels!
Chocolate is the number one food craved by women, although many men in my life hold a secret desire for chocolate within themselves too. We have fallen in love with this alluring food, a seed of a fruit of a jungle tree. We have been blinded by big companies with the introduction of heat and additives such as dairy milk, refined sugars and genetically modified soy lecithin that have denatured our beloved, magical chocolate. Addictions, allergies and intense cravings also appear due to heating – alongside guilt, excess weight and tooth decay.
But let me roar from the rafters it doesn't have to be this way! More and more health shops are selling raw chocolate bars, cacao beans and nibs. There are raw chocolate recipes abounding the internet, and recipe books to gorge on. Perfect for vegans, children, pregnant or lactating mamas, treating depression, allergies or just for unaldulterated joy!
In a nutshell, cacao is a superfood gift wrapped by nature. Whether you are looking for love, flexibility, healing, brain nutrition, healthy heart, excellent mood elevation or just plain saving the planet, raw cacao delivers every time. It creates huge pockets of bliss, creativity and optimism as well as gifting us the one of the most nutrient dense food to fuel the body.
It feeds my inner child when I give the girls raw chocolate cake or raw chocolate ice cream for breakfast and sit down to watch Willy Wonka and the Oompah Loompahs. It nourishes us all when the sun wanes to winter and we gently warm it in nut milk for a deliciously delectable hot chocolate. It activates my bliss when life comes on a little too strong.
Hardly containing my excitement all week in determining what recipe I was going to gift today … I was entertaining thoughts of wild mushrooms packed with wild green pesto and crushed cacao nibs, silverbeet wraps bursting with a mix of seasonal veggies, avocado and cacao or just plain old cacaoslaw! You can quite literally eat it with anything! I opted for Easter delicacies instead, seeing as the season to indulge in copious amounts of chocolates is upon us. Wahoo! That aside, the best, most intensely pleasurable way to eat chocolate for me? Placing a peeled cacao bean on my expectant tongue for a short while, playing with it, teasing out the flavours. Then crunching in delight as the sacred knowledge of the universe enters my being.
Enchanted Easter Eggs
2tbsp organic virgin coconut oil, gently melted
2tbsp raw cacao powder (not to be confused with cocoa powder)
1 tsp raw agave nectar
1tsp maca powder
1/2 tsp wild blue green algae (or spirulina)
Blend all ingredients until smooth, then pour into a mini egg mould and place into the fridge until set.
Feast on with a friend and giggle your way through the day.
Sarah Lea
Sarah will be holding a Easter Raw Chocolate workshop this Saturday 31st March from 10-12pm at The Brigand Cafe, Takaka, Golden Bay. Bookings essential. Phone 03 525 9102
GD Star Rating
loading...
GD Star Rating
loading...
Cacao "food of the Gods" + Raw easter egg recipe. By raw foodie Sarah Lea

,