Home » Business, Club Happyzine
ECOtanka's new MegaTanka drink bottle – great for long, thirsty days
Submitted by Charlotte on April 2, 2012 – 4:51 pm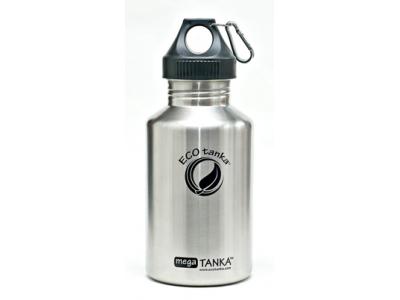 It just so happened that the weekend after I received my new Mega Tanka I had a busy weekend of outdoor activities lined up. Saturday involved an day community fair, and Sunday was a 'Long Italian Lunch' complete with the quintessential line of tables on the grass.
The generous two litre Mega Tanka proved invaluable for weekend away from home in the country (away from my water filter!) beneath a gorgeously hot Autumn Kiwi sun.
I've long been a fan of the food-grade stainless steel ECOtanka drink bottle range, having bought a good few for my family's use, and to give away as presents to friends.  I'm never without one, both for myself and my four year old, who alwas expects me to have water on hand.
But the one thing I always wished for was a drink bottle that held more water.  I especially craved a larger ECOtanka when I was breastfeeding and stuck in one place for hours on end, often unwilling to get up for more water in case I disturbed my sleeping son.  During those early days of motherhood I experienced a water lust I'd never known before.
So when I laid my eyes upon this enormous vessel, I felt like all my drink bottle dreams had come true at once.  Yes, it's huge, holding the full two litres they say we should drink each day.  It's easy to get big chunks of ice into it.  And it has this handy new sipper (called a Poly Spout Lid) that you can easily drink from, or pour from.
The new Mega Tanka is going to be incredibly useful every time I go away and want to take my gorgeous, pristine Golden Bay water with me – so camping, trips away to stay at people's houses and family picnics will all be times I make use of my Mega Tanka.  This two litre drink bottle is perfect for families, or people who simply need a lot of water through the day.  You can also buy these gorgeous TANKA cooler covers which will keep your drink nice and cool for hours longer.
You can find more info about the Mega Tanka on the ECOtanka website here.
Win an ECOtanka Mega Tanka!

This week all Club Happyzine members will go in the draw to win one of these fantastic drink bottles.
GD Star Rating
loading...
GD Star Rating
loading...