Home » Music
The Lowdown helps Wellington band enter NZ music scene
Submitted by Charlotte on April 3, 2012 – 4:42 pm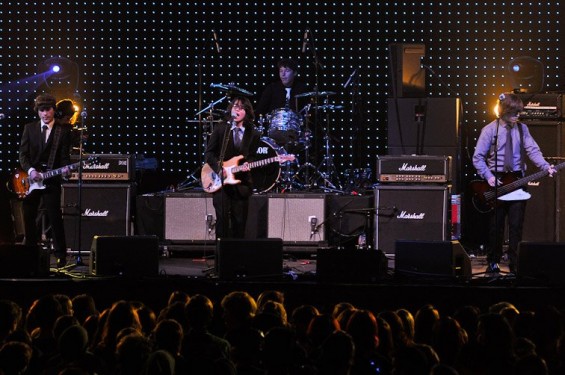 MEDIA RELEASE
29 March 2012
The Lowdown helps Wellington band enter NZ music scene
As young musicians around the country prepare for the 2012 Smokefreerockquest starting this May, Wellington band The Velvet Regime are releasing their first single after winning The Lowdown Best Song Award at the 2011 competition.
The song writing award was sponsored by www.thelowdown.co.nz and granted the band a professional studio session to record their winning track 'There Is A Light.'
Lead singer Nigel Martinez says the band is grateful to have been given the opportunity, "We're very excited; it's definitely an honour. The Lowdown is doing something really good for the community."
The Lowdown is a website aimed at New Zealand youth, it provides information that will allow users to identify depression in themselves and others, better understand it and get help through a variety of interactive online tools.
The band, which also includes vocalist/guitarist Stefan Poad, bass player Joel Avares and drummer Jason Reder, has every reason to be excited after previous Lowdown Best Song Award winner Massad made it into the Official New Zealand Top 40 with his single 'Tear My Heart Out.'
"The award gave me the chance to record my very first single at York Street Studio. It was a great experience and I wouldn't be able to do what I'm doing now without the support of The Lowdown," says Massad.
This year's Lowdown Best Song Award winner will also receive a professional studio recording session to record their winning song, encouraging entrants to showcase their best work.
Judge and Smokefreerockquest event organiser Dan Kendrick says the judges will hear over 1000 songs this year and the ones that stand out are immediately obvious.
"The judges are looking for a song that is cohesive, that is well thought out and executed, with musical integrity, a catchy tune and memorable lyrical delivery," says Kendrick.
Judges will select 24 contenders for The Lowdown Best Song Award from each of the regional finals. Finalists will then compete for the title at the national final in September.
"We want to discover a song that is original, has appropriate energy and has some commercial potential," says Kendrick.
Martinez says the inspiration for 'There Is A Light' came from his girlfriend who had been experiencing a tough time.
"It started as a love song, but eventually it took on a bigger theme and its meaning got deeper."
"We actually had other songs planned for Smokefreerockquest, but our families thought 'There Is A Light' was too good not to be used," says Martinez.
Building on the success of the boys' win, they begin shooting their first music video next month to be released this April.
"We're excited to release it. We can't wait to see where this takes us as a band, and wish the 2012 entrants all the best for this year's competition."
Entries to the 2012 Smokefreerockquest close May 4 with the first heat on May 11 in Nelson. To enter online visit www.sfrq.co.nz.
GD Star Rating
loading...
GD Star Rating
loading...