Home » Uncategorized
Tell us about an inspiring Cantabrian and win two tickets to the Christchurch Changemakers Convention!
Submitted by Charlotte on April 4, 2012 – 9:57 pm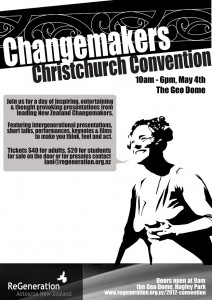 Happyzine and ReGeneration are proud to announce this opportunity for one person to win two tickets to the upcoming Christchurch Changemakers Convention, 10 am – 6pm, 4th May 2012, The Geo Dome.
To win these tickets (valued at $80) all you've gotta do is write us a short blog (500 words max) about someone in Christchurch who you really appreciate and admire.  Be sure to give us a good idea of what makes this person amazing, inspiring, and positively world-changing; include an accompanying image; and our readers will choose the winning blog.  The author of the winning blog will win two tickets to the Christchurch Changemakers Convention.
By the way, here's the low down on the Christchurch Changemakers Convention:
Join us for a day of inspiring, entertaining and thought provoking presentations from leading changemakers from around New Zealand. As well as great talks, films, live performances and intergenerational presentations there will be plenty of networking time to meet new people as well as catch up with old friends. So get a crew together, take a day out from work or study and come and get inspired about the positive change projects happening all around this beautiful country.  To find out more, either click on the image (to the top left) or scroll down …
And now for the rules of this exciting blog challenge:
1.  Competition opens Wednesday 10pm 4th April and closes 12 noon Thursday 3rd May 2012
2.  Email blog entries to charlotte@happyzine.co.nz
3.  Happyzine readers will decide who wins the two tickets by giving the blog one 'Thumbs Up' rating at the bottom of the blog, comments are welcome too, but will not decide who wins the challenge
4.  Happyzine readers have until 5pm Thursday 3rd May 2012 to vote upon the winning blog
5.  Video and up to three images are welcome too
6.  Blogs must be 200 words minimum and 500 words maximum
7.  This is a low-tech online challenge, so let's keep it clean, ethical and honest
Keynote Speakers at the Christchurch Changemakers Convention …
Robin Allison – Earthsong Eco Neighbourhood
Will Watterson – Global Poverty Project
Malcolm Cameron – Malcam Social Enterprise
Vi Cotteral – Trade Aid Founder
Lani Evans – ReGeneration
Other Speakers Include…
Charlotte Squire, Happyzine & the power of positive media
Jill Hayhurst, the science of happiness
Neill Ballantyne, SCMA – Religion & sexuality
Unlimited Paenga Tawhiti & the Kiwi Project
Simon Williams, Wanaka Wastebusters – Unpacking waste
Ben Dowdle, Campaigning for palm oil labelling
Corallie Winn, Gapfiller Project & creative recreating
Chelsea Robinson, Generation Zero
Sam Rye, Buckybox & the future of food security
Ella Sorryl, White Elephant Trust
Netta Egoz, Otautahi Youth Council
Jade Temepara, Hand over a Hundy & homegrown kai
Dr Sue Jarvis, Lincoln Envirotown Trust
Hai Sue Kang, P3 Foundation
and more…
For more information about the Christchurch Changemakers Convention please contact Lani Evans on 021-474-496 or email:
lani@regeneration.org.nz
Download PDF flyer here…
Changemakers Christchurch Convention Invite
122.27 KB
For more information about this challenge please email: charlotte@happyzine.co.nz
GD Star Rating
loading...
GD Star Rating
loading...
Tell us about an inspiring Cantabrian and win two tickets to the Christchurch Changemakers Convention!

,
Tags: regenerat