Home » Blog
Getting Ahead of the Curve by Getting Behind Talent – A Model for Social Innovation
Submitted by Charlotte on April 5, 2012 – 12:46 pm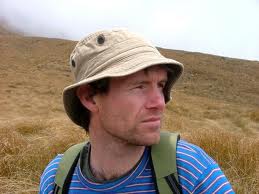 Alex Hannant on Sustainable Brands.com
April 4, 2012—Since I first engaged with climate change I've been driven by a question – how do you generate, embed, and scale quality solutions to sync society within the physical limitations of the world we live in? How do you do this quickly and how do you do it well? It gets my hackles up when climate change is siloed as an environmental issue – I fundamentally see it as a social one. It's an indicator that our current model is defunct and the harbinger of the biggest disruption that the 21st century will know. It exists because of us and will ultimately impact upon us – preach about it, ignore it or deny it; one way or another the world is changing – so we best get ahead of it.
If the issue is social in nature, so is the solution. And the answer to my question, as I see it, is that change comes through people – how they learn, how they interact, how they innovate, how they organise themselves, and how they act. In short, if you want a low-carbon society, don't get too hung-up on the technology or regulation – what you really need is holistic and iterative approaches that enable new models of social leadership, collaboration and innovation to emerge. This is the focus of our work at the Hikurangi Foundation – incubating social innovation through three interconnected pillars.
The first pillar is about developing the skills and competencies required to conceive of and lead change. Some of this is traditional leadership territory – purpose, vision, awareness, resolve – but we also see a number of other attributes required by the 21st century world. Entrepreneurs of today need to facilitate creative interactions between strange bedfellows. They need a high degree of futures literacy to be at ease with uncertainty, see novelty and capture opportunities as they emerge. Systems thinking and managing complexity are par for the course – as is good, quick decision-making that makes equal use of intuition and logic. Managing people without organisational or hierarchical structures; harnessing the incredible power of communications technology; brokering partnerships and sealing hybrid deals; story-telling and inspiring others are all key competencies for high-performing people working in sustainability. And we need these people in all sectors.
The second pillar is about facilitating the platforms (spaces, events and processes) that enable people to build relationships, align their interests, pool their resources, and develop a basis for cooperative action. As humans, we're very good at solving complicated but static problems. We're less good at collective conundrums that shift, are emotional, and cannot be beaten with a microchip. Yet, ironically for master problem-solvers, we still conceive of communications very literally (particularly in large organisations). Control and hierarchy can mask cooperation to a certain extent but they're no longer fit for purpose in meeting the long-term, systemic challenges we face. Good social process, whether it is 'U-process' or 'unconferences', enables people to reframe their thinking, build trust, and take ownership – all essential ingredients for social innovation. This work also enables self-organisation and efficient allocation of resources across communities, organisations and sectors.
The last pillar is about developing, validating and scaling solutions that have the potential to deliver big impact and change systems. We do this through a venture philanthropy model that supplies a tailored package of finance, skills, brokering, and long-term partnership. We are selective about which initiatives to work with but once on board, aim to be the partner that struggling social entrepreneurs dream about. Sally Osgood from Skoll says that social entrepreneurs do everything that entrepreneurs do but 'backwards and in high heels' because the support networks and systems don't exist as they do in the private sector. We seek to bridge that gap. At the moment we're supporting the establishment of New Zealand's first community-owned wind-farm; scaling the design and build principles of New Zealand's most energy efficient house, and piloting a PPP on-demand transport service for semi-rural communities – of which we have many. Once these experiments are made to work, they can be replicated and adapted with the benefit of hindsight.
So our model for low-carbon transition boils down to developing talent, facilitating good social process, and backing transformational ventures to the hilt – People, Platforms, and Projects. We don't have any fixed ideas about how this will develop but that's kind of the point. We're keen to connect globally, feel free to get in touch!
---
Alex Hannant is the Executive Director of the Hikurangi Foundation. Before joining Hikurangi, Alex was Director of Programmes at Leadership for Environment and Development (LEAD) – a global network focused on leadership development and learning for sustainability. Alex was also the Head of Partnerships at the Climate and Development Knowledge Network (CDKN) – a UK and Dutch Government funded initiative providing technical advice and services on climate compatible development to decision makers in developing countries.
Alex specialises in the design and delivery of strategies and programmes that focus on learning and social innovation – moving ideas into action. He has extensive… [Read more about Alex Hannant]
GD Star Rating
loading...
GD Star Rating
loading...
Tags: Business Model Innovation, Communicating Sustainability, leadership, Regulation/Legislation, Social Enterprise