Home » Music
Nelson all-girl Johnny Cash invited to major US festival
Submitted by Charlotte on April 13, 2012 – 2:56 pm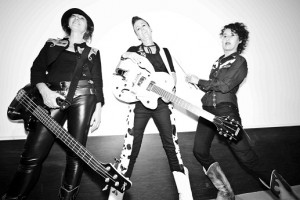 Nelson Media
The world's first and only all-girl Johnny Cash band, Nelson based The Johnnys, are off to California to the fourth annual Johnny Cash Music Festival in Ventura in June.
Vocalist and lead guitarist Suzi Fray (aka Johnny) says the last few weeks have been like a dream.
"I've spoken on the phone to Johnny Cash's daughter Cindy who said she was honoured to have The Johnnys playing her dad's music and keeping it alive," she says. "I still can't believe we could be on the same stage as Wanda Jackson, this year's headline act, often referred to as the Queen of Rockabilly and the first woman of Rock and Roll."
Individually the Johnnys have a strong track record in music in Nelson and on the West Coast, but the trio, Suzi, plus fellow Nelsonian Jo Taylor (aka JT) on bass and West Coaster Liala Gianstefani (aka Fancypants) on drums; have only been playing together since June last year.
Their hard driving Cash covers with their unique female (but not girly) sound have won them a reputation at Nelson venues, with shows now invariably selling out to capacity crowds.
Suzi says there's just one hitch about getting to California and that's cost.
"The Johnny Cash Music Festival is a fundraiser for the Coalition to End Family Violence and Food Share, Ventura's food bank, so performers are donating their time," she says. "If we want to accept this amazing invitation, gain some international exposure and represent NewZealand women musicians we need to fund the trip and expenses ourselves – and we are going to do it!"
The Johnnys are seeking sponsorship, donations and offers of goods or services that can be sold or auctioned; and they're willing to 'sing for their supper' with a whole range of ways that businesses and supporters will get recognition.
"We're selling ourselves 'Cash Up Front'," Suzi says. "We're asking people to book us now for staff Christmas parties, birthdays and weddings later in the year, with the concert fee to be paid 'Cash Up Front' to help us fund our trip."
The fundraising target is $12k with the Cash up Front gigs selling for $2k each. Two fundraising concerts are also planned at The Boathouse on Friday 25 May, with the second at The Playhouse in Mapua on Saturday 9 June.
Buy The Johnnys' newly released debut CD for $20 and find out more about how to
help get them to Ventura at http://thejohnnysnelson.blogspot.co.nz/ or send them a message via
facebook.com/#!/thejohnnysnelson
GD Star Rating
loading...
GD Star Rating
loading...
Tags: Music