Home » Business
Conscious Consumers organise second nationwide Carrotmob in Auckland, Wellington and Hamilton
Submitted by Charlotte on April 17, 2012 – 2:11 pm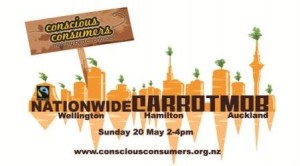 Greetings from the National Office of Conscious ConsumersLast April Conscious Consumers organised New Zealand's very first Carrotmob at Memphis Belle café, Wellington. A Carrotmob is an event which involves consumers mass-purchasing from a business that has pledged to use a % of money spent by the consumers on a particular social or environmental project (see
here
for more info). Our Carrotmob at Memphis Belle received nationwide media coverage, brought more than 300 (many new) customers to the cafe and raised nearly $2800 to improve the café's energy efficiency. Visit our
website
for details of last year's event.
On Sunday 20 May we are organising a second nationwide Carrotmob, in Auckland, Wellington and Hamilton (same day, same time!) to coincide with
Fairtrade Fortnight
. All Conscious Consumer cafes that have our
fairtrade
badge are eligible to be 'mobbed'. The café in each city that pledges to use the largest % of money spent by consumers on the day will win the right to be mobbed. The money that is raised during the Carrotmob will fund a new solar-power system to run the office of a small fairtrade coffee farm in Papua New Guinea (see attached for more information).
The bidding from particapting cafes starts on 23 April! – follow progress and accept an invite to a Carrotmob event near you through our facebook group

Check out our website for more info!
GD Star Rating
loading...
GD Star Rating
loading...
Tags: carrotmob, conscious consumers