Home » Food
This autumn, mono-eat to your heart's content! By Sarah Lea
Submitted by sarahlea on April 19, 2012 – 11:07 am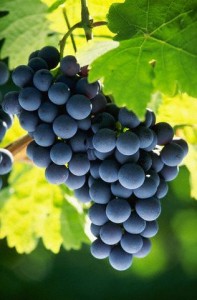 Sarah Lea is Happyzine's raw food writer.
I love following the laws of nature, and when that means we can mono-eat to our hearts content I'm one happy mama. So what could be simpler than heading to a particular area of abundance on one given day in autumn and devouring the beauty, joy and reality of a heavily-laden grape vine. To eat is a natural act, and simplicity abounds when consuming large amounts of highly nutritious bombs of energy. Red, black, green, purple, blue or golden, grapes are filled with 75% of living water and are loaded with incredible life-giving properties.
Mono-eating…eating the fruits from just one tree is a great way to cleanse your whole body and free up much needed energy. Eating in this way like natural wild animals, may make you feel better than when mixing up many different food types and eating in one sitting.  It also really helps with the dishes! Mono-eating is a great alternative to fasting, cleansing your body deeply. I watch my wild animals gorge their feast, sticky juice running down their arms and chins, stuffing as many red balls of delight into their mouths as space will allow! They are in their own pockets of heaven as another dish is brought out. Only in autumn do they devour their rights to gluttony!
The Queen of fruits are not only lick-smackingly delicious, but have high levels of vitamins, minerals and other beneficial compounds. As I cram another mouthful in, let me shout  about the Vitamin C and K, protein, calcium, potassium, iron which combats fatigue and boosts your energy, anti-oxidants giving beautiful clear, radiant skin… I am so blessed to be living in Paradise where grapes, also known as the fruit of the Gods are abundant at this time of the year. Consuming these gems of faultless beauty, helps our temples deal with numerous seasonal complaints such as flu, colds, eczema, fatigue and acne. These wee fruit bombs are also filled with anti-cancer properties, promoting womens health while reducing breast cancer tumours that are oestrogen dependant.
Being one who gets heart palpitations when she experiences waste, I have been delighted in a fermentation recipe using grape leaves. Soaking in brine for an hour or two, then bottling with the liquid and allowing a few days fermentation gives us a store of delight during the winter. Traditional Dolmas, (grape leaves wrapped around herbed rice) can be the inspiration to rolling up spiced parsnip or cauliflower raisin rice, in pickled leaves.
So, head down to your garden fence or ring around your friends and get in before the birds. There's enough to share this season and with no limit to the perfection of the grape vine I only wish we could bottle it!
Spiced Cauliflower Raisin Rice Wraps
1/2 head of cauliflower
glug of cold pressed olive oil
1 tbsp flax oil
1 tbsp garam masala…or to taste
handful of raisins and/or grapes
preserved grape leaves
Blitz the cauliflower in a food processor until it resembles rice.
Add the oils and spices and mix evenly.
Chop the grapes in half and add to the bowl.
Wrap inside the preserved grape leaves and hold together with a cocktail stick if your wrapping is as clumsy as mine!
Sit back with a glass of warmed red wine, pop on some summer tunes and dream of the Mediterranean!
To read previous articles by Sarah Lea, search on 'Sarah Lea' in the Happyzine search box.
GD Star Rating
loading...
GD Star Rating
loading...
Tags: raw food