Home » Local Good News
Meet Steve Carter – ChCh's brand new Good News Reporter
Q & A with Steve Carter,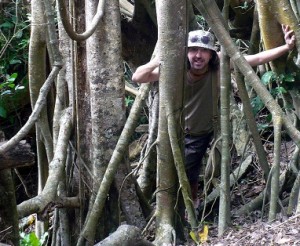 by Charlotte Squire
1.  Can you tell us some really important stuff about yourself?
Hmmm, "important" is such a loaded word.  I am an ex-pat Brit, born in Merseyside and raised in the heart of England (Warwickshire) but now a fully-fledged citizen of this beautiful country.  I love Te Waka O Maui, and I live in North New Brighton, only two blocks from the beach.  To use my Dad's favourite answer to the age question, I'm "as old as my eyes (green) and slightly older than my teeth (mostly intact)".  I'm paid to be a Health Promoter but also have pretensions as a writer, musician, DJ, graphic designer and tai chi person.  I love my garden and my evolving relationship with and understanding of Nature, and I love to grow and eat healthy food.  I hate the word 'hate' but I really do hate cucumber.
2.  What do you spend your days doing?
That really depends on the day.  Sometimes I will spend the whole day trying hard to do absolutely nothing … but responsibilities generally poke their way in at some point.  I do a lot of reading and writing for work, so I spend a heap of time in front of the computer, but I do always like to break from the hunched position and walk on the beach or do a bit of work in the garden.  Meetings do take up a fair bit of my time, but thankfully I love meeting people and having a good yarn, and the people I get to meet in my work as a Health Promoter for the Mental Health Foundation are always interesting.  And what else?  Play my guitar, listen to music, put together my radio show Moods For Moderns (broadcast on www.andhow.fm), practice my tai chi, cook nice food, watch DVDs.  Basically, I like to keep my days interesting and varied and I have a whole load of things I enjoy doing … so life never gets boring.
3.  Give us the low-down on your amazing new role with Happyzine!
It's really exciting to be writing for Happyzine.  The world seems to be drowning in bad news and if you believed everything you read or watched or heard, you'd be forgiven for thinking everything was immediately and pressingly doomed.  But then you go out into the real world and many people are living conscious and positive lives, enacting solutions and just being great to each other and the planet.  In the face of what might appear to be a terrible future, I think we need to shine a light on this stuff to give others hope and motivation to be involved.  I heard a lovely quote the other day: "Nobody can do everything, but everybody can do something."
4.  If your friends were to introduce you what do you think they'd say?
Many of my friends have sharp tongues and a wicked sense of humour, so I'm not entirely sure I could trust them to introduce me appropriately.  I'd like to think they would say I'm basically a nice guy … funny, smart and kind … but I'm not sure if that means I have to do more work on myself or on them!
5.  If there's one thing you LOVE about Christchurch it's:
The people, definitely.  With all the talk of collapsed buildings, destroyed heritage, potholed and bumpy roads and a totally changed city for everybody, it's the people that have survived.  There's a sense of community here that is at the core of why many have stayed when many others left.  I honestly believe that the Kiwi spirit of sharing, humour, ingenuity and pragmatism is epitomised in Christchurch more than any other city I have visited in New Zealand.  This really is the City That Rocks!
The Christchurch Good News Column is set to launch Friday May 4th.  Charlotte Squire, Editor of Happyzine will officially launch the column at the Christchurch Changemaker's Convention.  If you'd like to propose a good news story to Steve email: eccehobo@clear.net.nz.  If you'd like to promote a sustainably run Christchurch based business and support the Christchurch Good News Column find out more information here, or email charlotte@happyzine.co.nz
GD Star Rating
loading...
GD Star Rating
loading...
Tags: christchurch