Home » Blog
Celebrating and Contemplating Birthday Milestones – by Grace Deathridge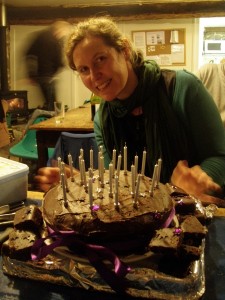 Grace Deathridge writes for Happyzine (having discovered it when she lived and worked in New Zealand) as an Intern.  Grace now lives in the UK.
I recently had what has been termed a 'milestone' or a 'significant' birthday – last month the planet Earth completed its fortieth revolution around the sun since the time of my birth and thus I turned 40!
Western society makes a big deal of birthdays with a zero in them and when you reach one of these big 'O' moments, you are entering a new decade of numbers that will feature in various places, including birthday cards, questionnaires, social networking sites, forms and press articles (if a mainstream journalist writes about you!) to name but a few.
I myself know that I am 'not a number' (we are all immeasurable!), but at the tail-end of my thirties I felt somewhat resistant to the idea of turning age 40. It seemed a lot older than I felt in my self and in my head I felt that I had not necessarily achieved all I should have by this age – in line with society's norms. In my heart of hearts I do not believe that we 'should' have to achieve anything to feel good about our lives, but still the negative feeling I had was there.
So – determined not to start my fifth decade with an air of negativity or regret, I decided to celebrate the event wholeheartedly. My determination paid off and I had a memorable weekend with friends staying in a 300 year old barn on scenic and wild Dartmoor in Devon and a few special days away with family. When my fortieth arrived I felt blessed to be in all these wonderful places with such beautiful people. I felt very lucky indeed!
The fact that reaching this birthday had felt like a big deal and my previous apprehension about reaching this age, got me thinking about milestone birthdays and what we experience at these pivotal moments throughout our lives. So I set about asking friends and family to tell me what they thought about significant birthdays they'd reached or were about to.
The first person I asked is turning 70 in June and although he is not that bothered about birthdays in general, he does seem to have a similar reluctance to mine about reaching his milestone age. He does not have the same issues as myself about what he should have achieved by this age, but when we explored the idea of turning 70, he put his lack of enthusiasm about it down to a sense of feeling defined by one's age. His description struck a loud chord within me and so I asked around as to whether other people felt defined by their ages and how they felt about turning their respective significant ages.
Initially I was going to look for patterns in what my friends thought, analyse these and draw some conclusions. I found this impossible to do. Instead I have recorded some of their responses below. When I looked at my friends words, it was apparent that they all shared the belief that 'zero' birthdays were significant to them and also that most of them felt defined by age in some way. What also became clear to me was that how people feel about their age is so specific to the individual – thus the impossibility of finding patterns. Just as people do not fit neatly into a box with a number on, neither do their responses to these boxes and numbers!
At the start of this article I claimed that part of my previous negative reaction to turning forty was due to a conflict with societal expectation, but on reflection, I think that although society has norms that are usually linked with age, we ourselves give weight and gravitas to them. Various life situation factors, including our own family's approach to age, may have a bearing on these expectations and beliefs. Ultimately though, I think the expectations that I have about my expected life achievements come from myself, as does my idea of what being this age means to me. Challenging and transmuting these expectations and meanings is within my power and is why I was so determined to celebrate my 40th birthday fully. I will leave you with the thoughts of friends and family on reaching their milestone ages.
Sandy (from Nelson, N.Z.} on turning 50:
"Approaching 50 I felt a sense of elation and a determination to do something significant. Having lived half a century seemed to be quite a feat of an achievement in some way. Although I still felt like a girl repeating the same patterns over and over again. I took myself off to Machu Picchu in Peru and was there on the actual day that I turned 50. I did a tour with a Shaman and we did a special ceremony in one of the caves at Machu Picchu where he proceeded to speak about the different ages and the significance of them. To him 50 was where the Spirit looked after all the physical needs of the individual – the integration of Spirit and physical."
Suzanne (from Bristol, U.K) on turning 30 earlier this year:
"I felt quite apprehensive about turning 30. It seems to have quite negative social connotations. I worried that I would lose my right to be creative and experimental and be playful. I didn't feel ready to turn thirty as I wasn't finished 'being in my twenties' yet.
I found it interesting to notice that within a week or so of turning 30 I felt more motivated and empowered to be who I wanted to be and do the things I want to do. I felt as if it was time to get my life in order. I remembered as a young woman being told that your 20′s were about having fun. In hindsight this idea was actually a bit of a curse as i think it stopped me from making any serious decisions about what I wanted from my life. This feeling evaporated when I turned 30.
Although I was terrified about turning 30 now I've crossed that bridge I feel excited by it. I am beginning to notice the benefits of the wisdom that I have managed to collect so far. Turning 30 has also broken the spell of immortality and I realise how short life is which motivates me to make the most of every day.
I do feel partly defined by this age. I worry about ageing everyday. It's becoming quite an obsession even though people assure me I look young for my age. I believe that societies emphasis on youth has implanted me with the idea that as women age they lose their power. But I have concluded recently that the cult of youth is actually the cult of sex. Because of the emphasis in the last 40 years of the importance of our sexual life I think what I am actually worried about is becoming sexually undesirable to men and that is the power that I'm afraid to lose. The beauty industry has a lot of answer for when it comes to the perspective of ageing in women. They have created huge amounts of fear around a process that is unavoidable."
Jonny (from Devon, UK) who turned 30 last year:
"Initially I had no added concerns about 30 – it was only afterwards that I and probably the surrounding social expectation, imbued specific significance of what I should have achieved by this point in terms of relationships, career etc. Then I had my very own crises!
Also, people often go through similar defining life experiences at similar ages and if you don't follow the norm then you really start to notice it.
Now I am even more aware of 'time ever changing'. I am trying to use this period of self reflection to guide how I'm living and where I want to be. Turning 30 means it's time to get serious!"
Anita (from Bristol, U.K.) on turning 50 later this year:
"I feel a mixture of feelings – some fear of ageing as I want to live life to the full for as long as I can. I think the 50, 60s even 70s don't really bother me. I am scared of the really big ones like 80 I think life can change a lot for this age group, maybe losing independence etc., but I am also pleased that with age has come a lot of life experience, my confidence has increased and I do feel content where I am in my life in terms of family, friends, health and interests etc.
Age to me is just a number, I really feel its how you live your life that's important not how old you have become. I have friends of mixed age ranges and its usually my older friends that are more content than the younger ones maybe its because they feel more relaxed as they don't need to work as hard, they appear to be more comfortable with who they are and less concerned with how they look. I'm not sure why that is.
I think or hope I will still continue to go with the flow of my life. Inside I still feel young, I hope I will continue to feel like this although I do sometimes do a double take when passing a mirror".
Jolien (from Aalsmeer, The Netherlands) on turning 50:
"When turning 30 I only experienced it on the day itself as a "significant" age. It felt like saying goodbye to youth and that you now had to seriously think about "do I want children? Am I in the right job, or do I need to change careers? Do I still want to start this study", etc.? I did not mind turning 40, but 50 I did not like at all. It felt like being over the hill, but mostly because other people think this is the case for 50 year-olds. Apart from the unavoidable biological changes (which also have advantages), in the end it was only perception, as I still do the same things as before.
It is nice to have all this life experience. It makes me feel more confident and I don't mind much anymore what other people say or think. I am happy within myself and milder towards others. I feel only lucky that I have reached this age whilst so many others have not. I don't take it for granted that I am still here and in a healthy state. I do however keep fit, it makes me feel good mentally and physically.
I think, irrespective of age and all other circumstances, it is best to look at the bright side. It will make you feel happier and also has a positive effect on the people around you."
Bridget (from Devon, U.K) on turning 70 later this year:
"I feel surprised, proud and a little wary of turning 70 . To me it means more years to explore life with lots of spare time. I will indulge myself a little more – I'll do what I feel like, with only a little guilt. I'll also use the freedom it confers to make relationships with all ages and types of people.
One can feel defined by older age, because that is what our culture does to us. People start to say "take it easy"; "let me help you"; "you're good for your age" etc. The older one gets, the more invisible one seems to become. Being tall, having a perm and wearing flashy earrings all help me to be noticed. But there are also benefits in not being noticed, particularly if you like observing people!"
Tony (from Warwickshire, U.K,) on turning 70:
"On reaching 30 I felt most depressed! 40 and 50 were a turning point, 60 a new beginning and 70 was a cause to reflect and celebrate with 80 seeming very far off. On reaching 70 I felt there was a lot to look back on but looking forward a reason to try and accomplish those aspects of life which had not so far been achieved, especially as far as family is concerned.
I think being 70 today one feels much younger than would have been the case for our previous generation when they would have seemed much older. One certainly is conscious of one's age but not totally defined by it. There is less of a tendency today to write off older people in part because of age discrimination legislation. However there is still a long way to go.
We have been a hard working but lucky generation."
GD Star Rating
loading...
GD Star Rating
loading...
Tags: age