Home » Events
Inspiring sustainability through positive human psychology
'Im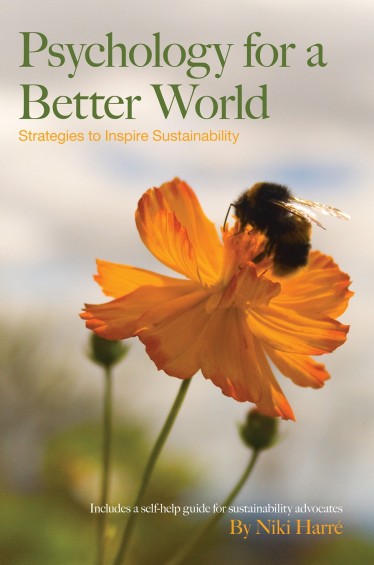 portant issue? Yes. Positive approach? Yes. Free? Yes. If you are in Wellington and crave some inspiration and positivity to encourage you, your friends, family or environmental group to live more sustainably then this is not to be missed.
On Wednesday the 9th of May, Wellingtonians will have the chance to learn about the importance of positivity when talking about sustainability and climate change, and it's all free! The climate crisis can often be a difficult and disheartening issue to grapple with, let alone talk to people about, so Niki Harre from the University of Auckland's Psychology Department is here to help. Niki is passionate about living with a minimal negative impact on this world, and is even more passionate about inspiring others to follow suit. Fitting with her values, Niki does not often travel the large distance from Auckland to Wellington so will be making the best use of
her time by making two presentations for slightly different audiences.
The first presentation will be about encouraging sustainable living through positive human psychology, applicable for anyone and everyone, at the Central Library's Mezzanine Community Room from 12.30-1.30 with time allocated for discussion and questions at the end.
The second will be designed for environmental groups to workshop Niki's concepts in a practical and hands-on way into how you connect with people, held at the Victoria University of Wellington from 3-4.30pm.
We hope to make Niki's efforts worthwhile and to enlighten lots of passionate people with her ideas, so please do come along! If you are interested in attending, please RSVP to rachel.hay@350.org.nz with your name and organisation if you belong to one.
The 350 Aotearoa Team
Psychology for a Better World: Strategies to Inspire Sustainability is free to download from:
www.psych.auckland.ac.nz/psychologyforabetterworld'
GD Star Rating
loading...
GD Star Rating
loading...
Inspiring sustainability through positive human psychology

,
Tags: positive psychology