Home » Local Good News
21st century organising in a shaky city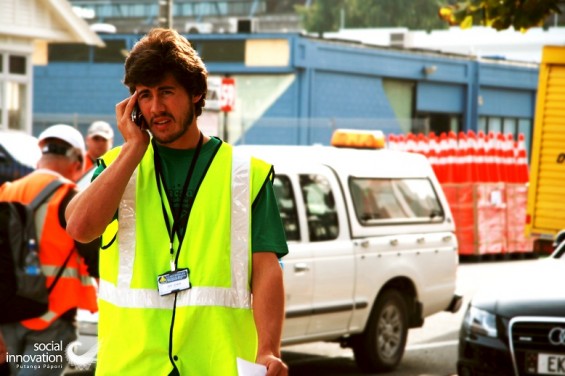 Steve Carter profiles young Christchurch 'changemaker' Louis Brown, who was part of the team behind the unforgetable and now multiple award winning Student Volunteer Army.
By now, just about everyone in New Zealand, and many beyond our shores, have heard about the Student Volunteer Army. The story of how thousands of students took to the streets following the major Canterbury earthquakes of September and February is a touchstone of the community response to our disaster.
The idea began with Sam Johnson in September 2010. Driven by his desire to help those most affected by the Darfield quake – not to mention change the public's perception of students as 'drunken couch-burning louts' – 2500 young people were mobilised through largely informal networks and social media to assist the immediate clean-up efforts in the Eastern suburbs of Christchurch.
However, it was the response to the more destructive February quake that really highlighted the power of community action that has catalysed this city in the aftermath.
Almost as if the September experience was a preparation exercise, in February more than ten thousand people worked closely with Civil Defence in the weeks following the shaking. Digging silt was just one obvious component of a mass effort that also included distributing half a million information leaflets; call centre operations involving 40 people a day; warehousing donated food and equipment; fundraising; web and social networking applications …. and so much more.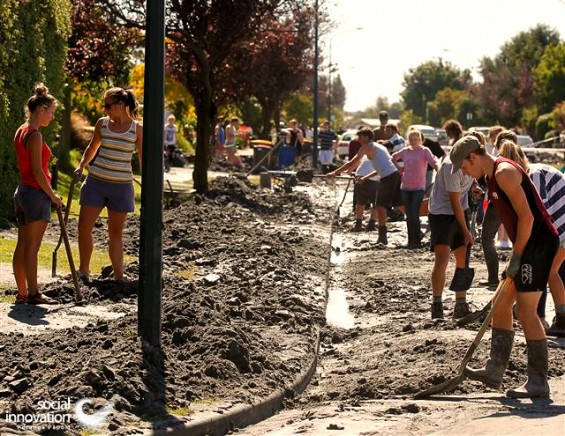 Louis Brown comes across with disarming humility. He's someone who doesn't really like the plaudits, just a community-minded young man from a family rooted in
social justice causes. As Executive Director of Social Innovation, an award-winning community engagement agency, he brought his organisational savvy to the behind-the-scenes operations of the Army. Sam Johnson continued to lead field operations, while a huge effort coordinated by Social Innovation, White Elephant Trust and Convergence Communications took charge of managing Civil Defence relations as well as logistics, media and public relations, all designed to bolster the activities of the people 'on the ground'.
As Louis describes it, "We were in the right place and the right time to facilitate and support Sam and his crew into becoming a well-oiled machine … as much as it can be
working … and living … in a disaster zone."
The city was in chaos. Louis puts it succinctly: "On February 22 we were all struggling.  Coming to grips with devastation: suburbs that had liquefied, the loss of basic services such as water and power, and many of us were isolated from 'the outside world'. It was easy to feel overwhelmed".
Yet, through sheer force of determination, within a short 16 hours of the earthquake striking this "well-oiled machine" had recruited 10,000 people on Facebook, created a plan, established an HQ and was ready for the huge challenge that had presented itself.
What followed is an oft-told story of community resilience that will resonate for a long time. Accolades continue to be rightly heaped upon the whole effort. Last week the Army was recognised as 2012 ANZAC Of The Year, and now the Public Relations Institute of New Zealand (PRINZ) has announced the finalists in its annual industry awards and Louis, along with Daniel O'Regan from Convergence received a nomination for their contributions.
Louis acknowledges the nomination, saying his organisation was proud to work alongside all the many partners involved. "We are pleased to have been nominated as a finalist in the PRINZ awards, but without the troops, the thousands who got out there on the streets everyday and the thousands more who donated food, money or equipment we had nothing. They were the ones who gave the whole operation purpose."
Convergence Communications Partner Leigh Harris says, "Not only is this recognition of the work we all undertook, but it also highlights the importance of excellent
communications during an emergency."
Indeed, there's a bigger picture here. As Louis says, "It shows the impact innovative communications can have for any community-led initiative."
More than just a simple matter of a community literally digging itself out of trouble, the wider implications of how this response was coordinated speak of something that is uniquely situated in the 21st Century. Lessons can and will be learned and shared, not just for future responses to disasters around the globe, but about how people work together to combine their forces and mobilise for community action.
Louis puts it smartly into context: "I'm excited. No longer is the world of advertising and public relations only the fodder of big corporations or government. There are many examples around the world of citizens steeled with a 'number 8 wire' attitude, using the tools at hand to communicate with tens of thousands of people and mobilising them for good causes and positive change. There's a strong and growing appetite in people to re-engage themselves as citizens, to move beyond being passive consumers of the way things are."
Louis draws his inspiration and drive from many other leaders and innovators in this global movement for change. Social entrepreneurs like young Australian Jeremy Heimans, co-founder of Getup.org.au, avaaz.org and purpose.com, and the team at makebelieve.me in Sydney, who are pioneering what, over the past few years, has been termed '21st century organising'. As Louis says, "they celebrate the age-old archetype of the community organiser like Kate Sheppard and combine that with ubiquitous modern technology."
Louis is on what he calls an "exciting new frontier" so I ask what the future has in store for him and Social Innovation? After all, we are all praying that Christchurch has seen the last of a need to shovel silt from our suburbs. He tells me they are working on a national community action platform to support everyday New Zealanders to take action on critical issues.
"It feels like a really high stakes project and there are a lot of Kiwis relying on us to get it right. We will build a local version of the successful models operating in the US, UK and Australia.  Momentum is building – last week we crowd-sourced from our peers the first two months salary for our Executive Director. This proves social media has changed the rules of engagement, and we are going harness it to give power to a large segment of our society who hold a vision for a fair, sustainable society."
He's certainly not resting on his laurels. This is a young man on a mission and his core motivation is simple:
"I think what I get to do is the most exciting thing I can do with my life."
For more information on Social Innovation, visit their website at www.socialinnovation.org.nz or on Twitter @sitrust @louislouisbrown
By Steve Carter, Local Good News Reporter, Christchurch.
Read the inspiring stories of our Christchurch sponsors:

Social Innovation is a small, hardworking community engagement agency based in Christchurch. They work with leading non-profits, changemakers, progressive companies and government to mobilise everyday New Zealanders. Their expertise in this area comes from grassroots innovation on large-scale community action projects, including the Student Volunteer Army, A Day at the Beach Festival, Love your Coast and a number of other public participation initiatives. They know how to scale initiatives and achieve big results with large numbers of stakeholders.
They have developed an integrated blueprint for community organising in the 21st century, drawing inspiration from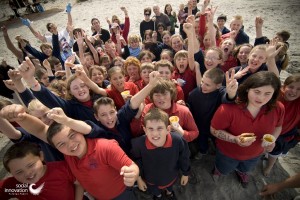 kiwi folk heroes like Kate Sheppard combined with the sheer power of modern technology. At the heart of what they do is supporting everyday New Zealanders to take action and participate fully in public life, in turn increasing the proportion of citizen's who know that they can make a difference to the way things are.
Their services include strategy, leadership training, volunteer coordination & management, media and communications, project management and fundraising. Find out more at www.socialinnovation.org.nz or make direct contact via their studio-line on 03 337 0861
Ph:  03 337 0861 or info@socialinnovation.org.nz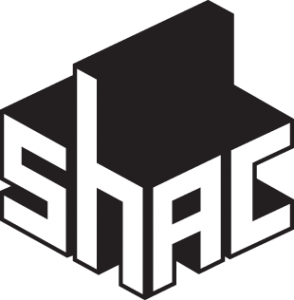 SHAC – The Sustainable Habitat Challenge – is a network of architects, builders, engineers, designers, building scientists, students and young professionals interested in taking positive action in their communities today.
On the 2-3 May 2012, SHAC presented the 2nd annual workshop on micro-architecture at the Christchurch Polytechnic Student Centre. Sixty attendees discussed temporary architecture, simple buildings, and the reuse of building material.
"People cherish their culture through recycling" – those are the words of Wang Shu, the 2012 winner of the Pritzker architecture prize. The demolition of red stickered housing and CBD buildings does not have to mean the eradication of Christchurch's history or culture – nearly all materials can be reused in new construction, incorporating local memories and fusing the past with the present.
What is permanent in this land of earthquakes? In San Francisco, the Palace of Fine Arts was built in 1915 as a temporary building for the Panama-Pacific Exposition and still stands today as an icon of the city. From the cardboard cathedral to the convention centre – how long will they serve us?
"Simple buildings are key for affordability" said Canadian architect Brian McKay Lyons, recently interviewed on Nine to Noon with Kim Hill. Lyons, from Nova Scotia, says "simple buildings are what we farmers and fishermen build when we can't afford to get things wrong"
This symposium brought together elements of the growing Regeneration movement – people working together to take positive action in their communities.
Community Rebuild – for the Whole House Reuse project Juliet Arnott
Community Development – Joshua Durrant, Jess Smale, Sophie Moore

YTONG® is an alternative building system made from light-weight Aerated Autoclaved Concrete (AAC). It was invented in Sweden in 1923 and further developed under the YTONG® brand it turned into a world-wide success.
Environmentally friendly and non-toxic – From the manufacturing process to shipment, construction, and waste disposal YTONG® is in ecological balance.
Good sound absorption – effective sound barrier – The natural air cushion formed in the high-pressure steam curing of AAC can absorb the most possible noise.
Ensures high standard of well-being – YTONG® reduces temperature differences and humidity fluctuations and so ensures a comfortable and healthy room atmosphere.
Excellent workability – It is easy to erect a solid masonry structure quickly and precisely. Only few tools and implements are necessary.
Outstanding thermal insulation – Keeps buildings cool in summer and warm in winter saving on heating and air-conditioning.
YTONG® is fireproof and has a high fire rating – AAC is resistant to high temperatures for a longer period of time than any other solid building material. YTONG® is especially chosen for fireproof walls in commercial buildings.
Performs well in earthquakes – Thanks to its low weight and its plastic deformation properties the destructive force of earthquakes can be minimised.
GD Star Rating
loading...
GD Star Rating
loading...
Tags: christchurch, Christchurch Recover