Home » Arts
Mobile radio station hosted by Auckland artist's collective to visit local Taupo communities
Submitted by Charlotte on May 8, 2012 – 1:52 pm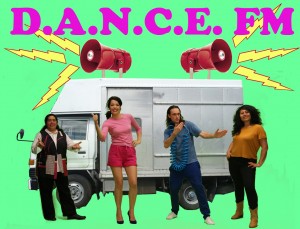 NEWS RELEASE – Letting Space
3 May 2012
MOBILE RADIO STATION TO VISIT LOCAL TAUPO COMMUNITIES
A national public art programme sees an Auckland artists' collective visit small communities with a mobile radio station and public address unit around Lake Taupo next week.
From Mangokino to Turangi, Wairakei Village to Waitahanui marae the group D.A.N.C.E Art Club is meeting and broadcasting with communities around the Lake Taupo region as part of the Erupt festival between 16 and 20 May, as part of Letting Space's Community Service contemporary art programme.
An art party on wheels, D.A.N.C.E FM 106.7 operates from a converted panel truck, DJing with locals, reporting on events at the festival, exchanging local stories and community issues, and sharing toasties and a mysterious specially created drink by the artists for Erupt called 'the Volcanic Sparkle'.
The project is the brainchild of an Auckland art group D.A.N.C.E Art Club, and has been created with New Zealand public art programme Letting Space, in association with the community, for the festival.
No community is too small for this art and music project (the itinerary is included below). It kicks off on Wednesday 16 May at a pensioner village in Rifle Range Road before moving onto public DJing workshops with local school students at Wairakei village, a gig at the Magakino Bus Stop café on Thursday and Waitahanui and Turangi on Friday and Saturday. It will also set up in the Taupo town centre on Wednesday, Thursday and Saturday.
"We are excited about getting to explore these choice towns," says D.A.N.C.E Art Club member Ahilapalapa Rands. "This is such a cool opportunity for us. We are hoping to open up public discussion about Erupt festival with local communities, learn about what makes them special and have a good time doing it,"
Locals can tune in to 106.7FM between 16 and 20 May from 10am to hear live studio interviews with artists, conversations with festival goers, and interviews with locals, captured by D.A.N.C.E. FM's roaming reporters. The project will link to local businesses, community organisations and everyday households
This work is part of a series produced by leading public art programme Letting Space called Community Service which commissions contemporary artists to work with communities around New Zealand towards social change, using arts festivals as platforms. Joining this project is Tim Barlow's The Public Fountain (www.lettingspace.org.nz/the-public-fountain), a temporary publicly operated fountain at the centre of Taupo's shopping centre, which acts as a platform for community storytelling about geothermal power use. Letting Space are excited to make the Taupo region one of their first launchpads for this series.
The D.A.N.C.E FM 106.7 itinerary is as follows:
Wednesday 16th
10am – 12pm
Rifle Range Road Pensioner Village
2pm – Onwards
Taupo Town Centre
Thursday 17th
10am – 12pm
Taupo Town Centre
2pm – 5pm
Wairakei Community
6pm – 8pm
Mangakino Bus Stop Cafe
Friday 18th
10.30 – 2pm
Waitahanui Marae
3pm – 7pm
Turangi
Saturday 19th
10.30am – 2pm
Turangi
3pm – 8pm
Taupo Central
With Erupt's Lanterns In The Lake
D.A.N.C.E. Art Club is an Auckland based arts collective who curate and facilitate art gatherings. They enjoy working in diverse spaces such as public parks, nightclubs, urban environments as well as traditional gallery spaces. Their key aim is to encourage audience engagement and participation in challenging and innovative ways. Their members include Chris Fitzgerald, Ahilapalapa Rands, Linda.T and Vaimaila Urale. Previous projects have included with Enjoy Art Gallery, St Paul Street Gallery, Mangere Arts Centre, Cassette 9, Sarjeant Gallery and Galatos. Shortly after Erupt they wing themselves to Melbourne to organize the closing party for the Next Wave Festival.
The project is funded by Creative New Zealand and Erupt Festival Taupo, with thanks to Timeless Taupo 106.4 and Mountain FM 89.6.
To keep up to date with information on this project please join our Facebook page
For further information email sophiejerramandmarkamery@gmail.com and our website www.lettingspace.org.nz
GD Star Rating
loading...
GD Star Rating
loading...
Tags: Arts